Several plants that are members of the genus Cinnamomum are referred to as cinnamon, a common spice used in many cuisines. The bark of these plants contains an essential oil that is a component of traditional herbal medicine in China and India. Practitioners recommend cinnamon as a general health tonic to treat several disorders. Consult your doctor to discuss whether adding cinnamon to your regimen is appropriate for you.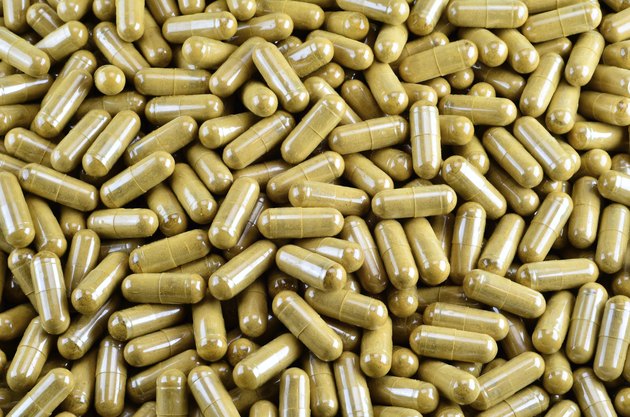 Properties
The essential oil in cinnamon contains several active compounds, including cinnamaldehyde, cinnamyl acetate and cinnamyl alcohol. These natural chemicals are antioxidants that help remove free radicals, damaging byproducts of metabolism that may injure your cells. Cinnamon also helps reduce inflammation by inhibiting production of chemicals produced by immune cells. It may also help slow the rise in your blood glucose after a meal and boost the action of insulin. Finally, it may prevent the growth of potentially dangerous bacteria and other microorganisms.
Use in Diabetes
Cinnamon may reduce the rate at which your stomach empties after you eat, slowing the rise in blood sugar that follows a meal. It may also stimulate insulin receptors, helping the hormone move glucose into cells more effectively. Taking cinnamon daily may help patients who have type 2 diabetes keep their blood sugar in a healthy range. A paper in "The Journal of the American Board of Family Medicine," published in 2009, reported on a clinical trial in which subjects with diabetes took either cinnamon or placebo for 90 days. Those taking cinnamon had lower levels of hemoglobin A1C, a measure of average blood glucose levels, than those who took the placebo.
Antimicrobial Uses
Cinnamon may also slow or stop the growth of harmful bacteria and fungi. In a study published in 2003 in the "International Journal of Food Microbiology," addition of cinnamon oil to broth stored under refrigeration inhibited growth of bacteria for 60 days, while the bacteria grew rapidly in samples lacking cinnamon. According to another study published in 2010 in "Food Chemistry and Toxicology," cinnamon oil is toxic to many different pathogenic microorganisms, including fungi such as Candida, the cause of several forms of yeast infections.
Recommendations
Cinnamon is available powdered from most food stores or as capsules from health food stores. Keep cinnamon in a tightly sealed container in the dark. It may be added liberally to food at meals or consumed as a supplement. Cinnamon is generally considered safe, although a recommended dose has not been established. Use cinnamon with caution if you take blood thinners or medication to lower blood glucose, as it may interact with these medicines. Consult your doctor to determine if consuming cinnamon as a supplement is a good choice for you.