When you want to lose weight, your first instinct might be to jump right in to a new exercise routine. That can indeed do wonderful things for your body -- but it won't necessarily lead to weight loss. Your body uses the food you eat to fuel your activities, exercise or otherwise. Leftover fuel gets stored as fat, even when you exercise. To lose weight, you need to combine exercise and calorie restriction. Consult your doctor before beginning any weight-loss program.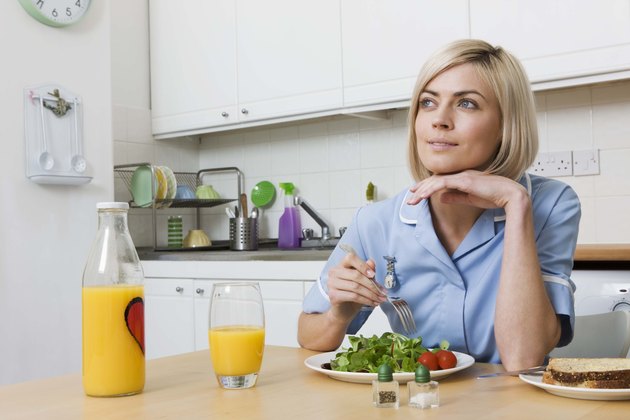 Fat Loss
While regular exercise is an important component of any weight-loss plan, it's not a cause-and-effect relationship. It's not the fact that you're exercising that makes you lose weight, it's the fact that you're placing a demand on your body that it is nutritionally ill-equipped to fuel. So instead of using food as fuel, your body turns to stored fuel, or fat. Triglycerides get tapped from your fat cells, which eventually shrink as they get emptied, resulting in fat loss. Higher intensity exercise burns calories during and after exercise and the post-exercise burn is always aerobic in nature, regardless of the exercise itself.
Calorie Deficit
The rate at which fat loss happens depends upon how much you are taxing your body's fuel stores. To lose a pound per week, you have to create a 500-calories-per-day deficit, meaning you burn off 500 more calories than your body needs. If you want faster weight loss, you can create a 1,000-calories-per-day deficit to lose two pounds per week, but any more is considered unsafe. Considering that an hour of walking at 4.5 miles per hour burns about 440 calories for a 150 pound person, that's a lot of time on the road.
Nutrition's Role
You can easily create about half of your deficit by cutting calories, so you'll only have to work out half as long each day. For example, if your goal is one pound per week, you could walk for 30 minutes per day and give up dessert or a couple of colas to create your deficit. It's not a huge change, considering that sticking to it will get you to a smaller pants size in a couple of months.
Stumbling Blocks
The key is that the deficit must be below what your body needs, not what you're used to eating; use an online calculator, like the one available at the American Cancer Society website, to find out what that number is. If you've been grossly overeating and are steadily gaining weight, you'll have to cut calories just to bring you to a level that will maintain your weight and stop the gain, then cut more calories to allow for weight loss. On top of that, exercise can increase your appetite. Your best weapon is high-volume, low-calorie food like vegetables and fruit. Not only are they healthy, but they take up plenty of room in your stomach but only supply you with a few calories. You may gain a little weight as your muscles develop, but that's a good sign -- muscles help you burn fat by increasing your calorie deficit -- so hit the weight room.