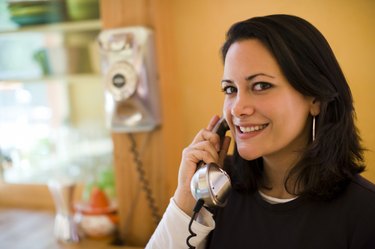 The Gazelle Glider is a line of in-home cardio machines made by Fitness Quest and endorsed by Tony Little. As of March 2011, the Gazelle models are the Edge and Freestyle, though there have been a variety of models over the years. If you need a replacement part for your Gazelle, contact the manufacturer directly.
Warranty
Fitness Quest warrants the Gazelle Gliders for 90 days or 12 months, depending on the model. The warranty period begins from the date of purchase on your receipt. Consult your owner's manual for the specific warranty information on your Glider. If your Glider is under warranty, Fitness Quest may not charge you for replacement parts, depending on the reason for the damage. The warranty is not transferable to a second party and does not cover damage if you use the Glider in a commercial setting.
Warranty Repairs
Your Gazelle Glider owner's manual provides instructions for obtaining replacement parts if your machine is still under warranty. You have to pay the cost of shipping the damaged part back to the manufacturer. Include your return address, daytime phone number, a brief note about the part that needs replacement and your package identification number or a copy of your proof of purchase. Send the broken part and necessary documentation to Fitness Quest (Customer Service, c/o your Gazelle model, 177 Fitness Quest Plaza, Canton, OH 44750-1001).
Phone Orders
If your machine is not under warranty or you have questions about a replacement part, contact Fitness Quest customer support at 1-800-321-9236. You can order and pay for replacement parts with a credit card over the phone. The customer service center hours are Monday through Friday, excluding holidays, 8:30 a.m. to 6 p.m., Eastern Time, as of March 2011. Have the model name of your Gazelle Glider, as well as information about the problem and the part that is broken.
Email
Your last option for contacting Fitness Quest for Gazelle Glider replacement parts is to email the customer service department. Email customer service directly (customersupport@fitnessquest.com) or complete an online form on the Fitness Quest website. The form asks for your name, email address and provides a section for you to write in your question or request. The website says a customer service representative will respond within one to three business days.