If your muscles are aching but you still want to exercise, you might consider heading to your local pool. Whether your muscles are sore because you overdid a workout or because you've suffered an injury, swimming can help. You'll need to choose the best pool for your needs, and always speak to a doctor before starting any new exercise program.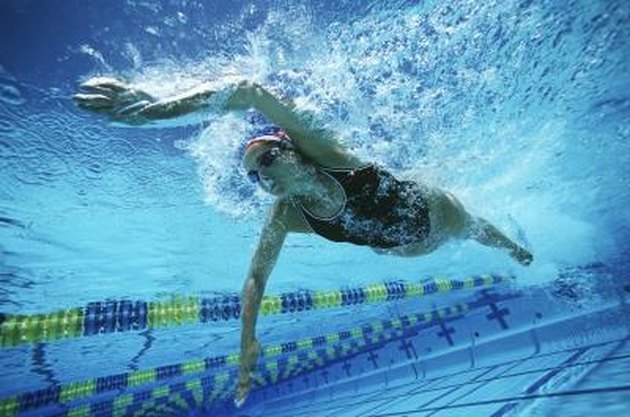 Overuse-Related Soreness
Overuse -- the medical term for overdoing it with your workout -- is one of the most common causes of muscle soreness, especially if you're new to exercise or have recently started a new activity. If you're experiencing mild soreness, gentle exercise can help. The American Council on Exercise recommends light resistance exercise, and pushing against water gives you exactly that. To avoid further soreness, swim at a moderate pace or jog in the shallow end.
Strain-Related Soreness
Another common source of muscle soreness is a muscle strain. Spine-health.com recommends resting for no more than two days after a muscle strain, since longer rest can cause loss of muscle tissue. Spine-health.com recommends swimming after a muscle strain, since this low-impact aerobic exercise increases blood flow to the injured muscle and helps promote healing. If you've suffered a severe strain, work with your doctor or physical therapist to create a safe exercise routine.
Choosing Your Pool
If you're using swimming to relieve muscle pain, choose the right pool. Exposure to cold and wind stresses your body and can cause muscle spasms, according to chiropractor Dr. Luke Martin. If possible, use an indoor pool, where you'll be sheltered from inclement weather. Some communities even have warm-water therapy pools especially designed for rehabilitation. Dr. Martin highly recommends these to patients recovering from muscle strains.
Safety Considerations
All pool environments can be dangerous, so make sure to follow all pool rules. Stay at depth you are comfortable with and consider swimming with a buddy. Also, be aware that warm-water pools present unique risks. Young children, the elderly, or those in generally poor health can easily become dehydrated in very warm water, reports the American Cancer Society. Maintain awareness of your body and get out if you feel overheated, dizzy, faint or nauseated.