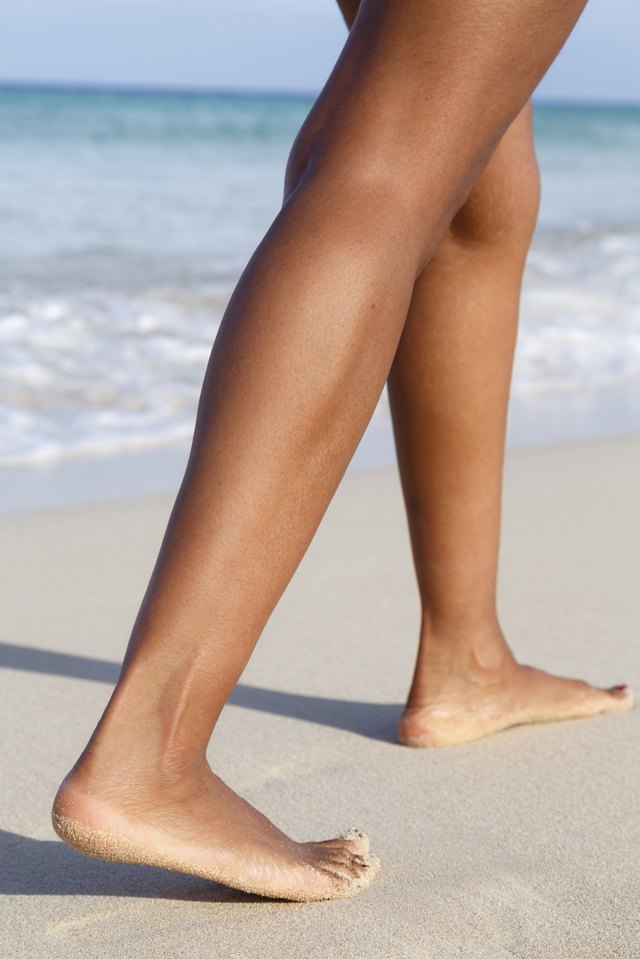 Loss of muscle, also known as muscle atrophy, is a physical side effect of aging. According to the University of New Mexico, individuals over the age of 30 who do not engage in regular exercise lose 3 percent to 5 percent of muscle mass every 10 years. Muscle atrophy of the calf also can occur for many other reasons including nutrient deficiencies, immobilization or nerve damage. Rebuilding muscle is attainable for many people through diet and exercise.
Causes
Specific causes of lower leg atrophy include a sedentary lifestyle, injury to the leg or foot, prolonged immobilization, inadequate nutrient consumption and conditions associated with malabsorption of nutrients.
Exercises to Build the Lower Leg
The old adage "use it or lose it" is analogous to the growth and loss of muscle tissue. Muscles grow larger through exercise, in particular strengthening exercise, and grow smaller with lack of activity. Just look at any body builder and you have a good idea of what strengthening exercises can do for the muscles. For individuals able to exercise, strengthening exercises targeted at the gastrocneumius muscles such as the standing calf raise may help to rebuild the lower leg. Stand on top of a step. Place your feet on the step so that only the balls of your feet remain on the step and your heels hang over the edge. Push off the balls of your feet and raise your heels up as far as possible. Slowly lower your heels back down until you feel a slight stretch in your calf. Do three sets of 15 repetitions. To increase the difficulty of this exercise, try doing the exercise with only one leg at a time or place a dumbbell in each hand.
Nutrition to Promote Muscle Growth
Proper nutrition is a vital component of muscle growth and provides the necessary nutrients to build new muscle. Muscle growth requires adequate calories, protein, carbohydrates and fat. Proteins provide a type of molecule called amino acids that act as the building blocks from which muscle is created. The recommended daily allowance, or RDA, of protein for women age 19 and older is 46 grams a day and for men age 19 and older is 56 grams a day, according to the 2010 Dietary Guidelines for Americans. Likewise, the body requires an adequate level of carbohydrates for energy so that proteins can be used for muscle growth instead of fuel. The RDA target for carbohydrates for men and women over the age of 19 is 130 grams a day.
When to Contact Your Doctor
Contact your physician if your atrophy does not improve with strengthening exercises or diet changes or if you experience weakness of the lower leg, numbness, tingling or difficulty walking. This could be a sign of a more serious condition that requires medical treatment such as cerebral palsy, Lou Gehrig's disease, Guillain-Barre syndrome, polio, stroke, spinal cord injuries or muscular dystrophy.