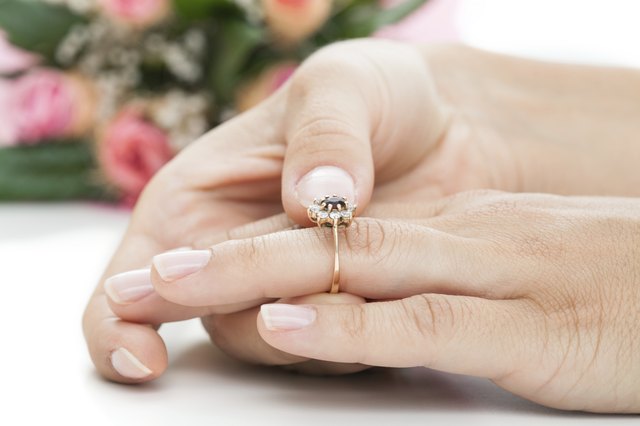 As with weight loss and gain in all areas of your body, changes in your finger size can fluctuate without notice. Just as you may put on a favorite pair of jeans one day and discover they feel too big, at some point in your weight-loss journey, your ring might not fit your slimmer finger.
Ring Size Factors
Several factors affect your ring size, including your weight. Because the fingers, like most areas of your body, can store fat, many peoples' ring sizes decrease during weight loss. Tissue changes as you age result in a smaller ring size. Water retention from high-sodium intake can temporarily increase ring size. Even climate changes can affect your ring size. Jewelry retailers have sizing tools available and online retailers and mail order catalogs often supply ring size charts and measuring instructions.
Effects of Losing Weight
When you lose weight through lifestyle changes you can commit to long term, you'll need smaller clothes and may need smaller rings. In a weight-loss success story reported on the University of Kentucky Health and Wellness website, a man who lost 115 pounds said his ring size decreased by one size. Because of individual differences, it isn't possible to predict how much your ring size will decrease should you lose weight.
Strategies to Try
By trying rings on different fingers, you may be able to wear a favorite ring on a different finger if it gets too big. An insert for rings, called a ring adjuster or ring guard, available from jewelry suppliers, helps keep a loose ring on your finger. It can be worth waiting until the end of your weight-loss process to have engagement, wedding, heirloom and other treasured rings resized. Keep valuable or irreplaceable rings in a safe or safe deposit box until you're ready to have them resized.
Keep an Eye on Your Rings
When your fingers get slimmer along with the rest of your body, you could lose a ring. The risk is highest when you're bathing, washing dishes, or engaged in cleaning, gardening or other chores with wet or greasy hands. Plan to have rings fitted or resized at the end of the day. As with feet, fingers can swell during the course of the day.