Raising the incline on your treadmill is a way to make your workout a calorie-scorching, heart-pumping challenge. Running or hiking uphill increases muscle activation in many of the muscles of the lower body, which also leads to muscle gain. Inclined treadmill sessions won't leave you with the definition, bulk and symmetry of a bodybuilder, but they will improve strength in your running and walking muscles and can make you a fitter athlete.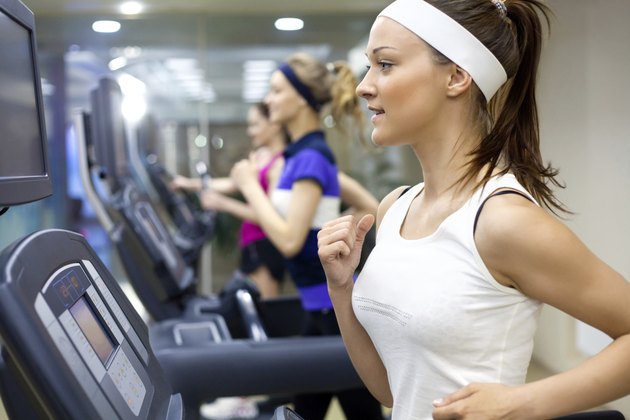 Muscle Activation
Your heart rate rises rapidly and you fatigue faster on an inclined treadmill because you are demanding more effort from your muscles. A landmark 1996 study published in the "Journal of Physiology" showed that running on an inclined treadmill engages several muscles of the inner thighs, the hamstrings, the glutes, the quadriceps and the calf significantly more than running on a horizontal belt. A study in a 2000 issue of "Medicine and Science in Sports and Exercise" also showed that running up a 30 percent grade resulted in far greater activation of many major muscles of the lower body than running on a flat treadmill belt. Research from Dr. Matthew Rhea, Director of Human Movement at A.T. Still University, reported by the fitness equipment company FreeMotion, found that when people walk at inclines that exceed 15 percent, leg muscle activation reached nearly 75 percent of maximal – compared to only 20 percent activation at a 0 percent incline.
Muscle Building
To build significant muscle, you need to work against 80 to 85 percent of your one repetition maximum for multiple sets of eight to 12 repetitions. Treadmill incline work does not come near this level of resistance, even though it feels very hard. The "Journal of Physiology" study noted that even during fast sprints uphill, the lower body muscles are not maximally loaded. Pushing your legs against the hill will build some muscle that results in greater strength, but not the powerful, bulging legs you see on power lifters.
Considerations
Some body types put on muscle more readily than others. If you fall into the muscular mesomorph body category, you may experience a modest increase in size in your calves and glutes when you do copious amounts of incline treadmill work. Thin, willowy ectomorphs and curvy, soft endomorphs will more likely experience gains in strength with less visible muscle size changes. Your genetics determine your body type; it isn't something you can control. Since every body is different, you have to experiment to see how hill training affects your appearance.
Strategy
If you are concerned about becoming bulky, include a variety of incline and flat road training on the treadmill. Rolling hills, in which you do three to five minutes on a hill followed by an equal amount of time on a flat road, are a good way to integrate incline training without overdoing it. If size is your desire, hit the weight room floor on at least two nonconsecutive days per week and perform three to six sets of moves such as barbell squats, lunges and deadlifts with weights that feel heavy to you after about 10 repetitions. You can augment such lifting sessions with hill work on the treadmill -- but do the hiking or running afterward so you have all your strength to give to the resistance training.