Sunflower seeds can be part of a weight-loss diet. They're packed with protein and essential vitamins and minerals such as folate, vitamin E and copper. These tasty seeds also contain fiber, which is known to help you lose weight, and they have other components that support metabolism and weight loss. But sunflower seeds don't magically make you lose weight. In fact, their caloric content is high enough to ruin a diet if you don't pay attention to your portion size.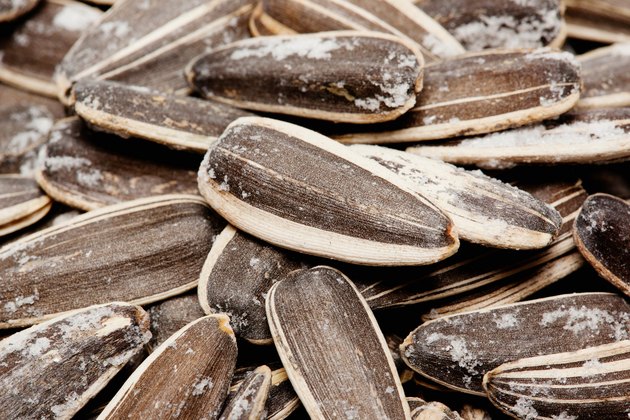 Fiber Boosts Weight Loss
Boosting fiber intake is one simple step you can take to support weight loss, according to a study in the Annals of Internal Medicine in February 2015. As fiber absorbs water, it swells in your stomach and slows down digestion. As a result, fiber makes you feel full for a longer period of time, which makes it easier to eat less. Chances are you need more fiber because most Americans consume half of the recommended daily intake, reports the publication "Dietary Guidelines for Americans, 2010."
You should aim for an intake of 25 grams daily for women and 38 grams for men. You'll get 3 grams of fiber from 1 ounce of dry-roasted sunflower seed kernels, which is a little less than 1/4 cup. As you add sunflower seeds -- or any other source of fiber -- to your diet ,increase the amount of fiber gradually to avoid side effects such as diarrhea. Most importantly, don't splurge on sunflower seeds. With 165 calories in a 1-ounce serving, sunflower seeds can cause you to exceed daily calorie goals if you don't watch the amount you consume.
Balance Blood Sugar to Lose Weight
About 75 percent of the total calories in sunflower seed kernels come from fats, but they're primarily heart-healthy fats. The seeds have no cholesterol, and they're low in saturated fat. A 1-ounce serving has 14 grams of total fat, with 3 grams from monounsaturated fats and 9 grams consisting of polyunsaturated fats. Both types of unsaturated fats protect your cardiovascular health by lowering cholesterol. The type of fat also influences the impact of sunflower seeds on body weight.
The polyunsaturated fats in sunflower seeds -- omega-6 fatty acids -- improve glucose metabolism by increasing insulin sensitivity, according to a report in Progress in Lipid Research in January 2009. Being sensitive to insulin is good for your health because it means that cells in the body respond properly to insulin, which allows the hormone to do its job of getting excess sugar out of the bloodstream. This process is also important for weight loss. If levels of blood sugar remain high, the body stops breaking down stored fat and turns extra blood sugar into fat. Both of these actions lead to weight gain rather than weight loss.
Selenium in Sunflower Seeds Supports Metabolism
If you want to keep your thyroid healthy, you need the right amount of selenium in your diet, reported a review in Current Opinion in Endocrinology, Diabetes and Obesity in 2013. The thyroid gland needs selenium and iodine to produce thyroid hormones, which regulate your metabolism, including how fast you burn calories. While a healthy thyroid won't lead to weight loss, lack of selenium and a sluggish thyroid may have the opposite effect and cause weight gain.
Sunflower seed kernels definitely boost your intake of selenium. One ounce provides 22 micrograms of selenium. The dietary reference intake is 55 micrograms daily, so a single serving of sunflower seeds supplies 40 percent of your total daily requirement. Just don't go overboard with selenium -- high doses can become toxic. Consuming more than 400 micrograms of selenium daily, including food and supplements, may cause loss of hair and nails, skin rashes, fatigue, garlic breath and gastrointestinal problems. In more severe cases, selenium toxicity may cause neurologic disorders, reports the Linus Pauling Institute at Oregon State University.
Chlorogenic Acid May Help Weight Loss
Chlorogenic acid is a natural antioxidant that's readily metabolized in the human body, where it helps fight inflammation. But it's better known as a weight-loss ingredient found in green coffee beans, but it's also abundant in sunflower seeds. In laboratory mice, chlorogenic acid blocked diet-induced obesity and inhibited the accumulation of fat in the liver, reported Pharmaceutical Research in April 2015. In mice and people, it also improves glucose control by lowering blood sugar, which is another way it may help you lose weight.
Sunflower seeds contain at least 13 milligrams of chlorogenic acid per gram of kernel, or 364 milligrams in an ounce. This is roughly equivalent to the chlorogenic acid in a cup of coffee, but it's less than the amount in a similar quantity of green coffee beans. The presence of chlorogenic acid in sunflower seeds might contribute to weight loss, much like the moderate effect achieved from green coffee beans. Experts haven't yet studied chlorogenic acid in sunflower seeds, however, so there's no proof that it increases weight loss.