Your body can usually make plenty of L-tyrosine on its own, and you'll also get this conditional amino acid from soy, poultry, fish, seeds, nuts, dairy and avocados. If you're extremely stressed or sick, however, your tyrosine levels may be a bit low, and taking a tyrosine supplement could be helpful.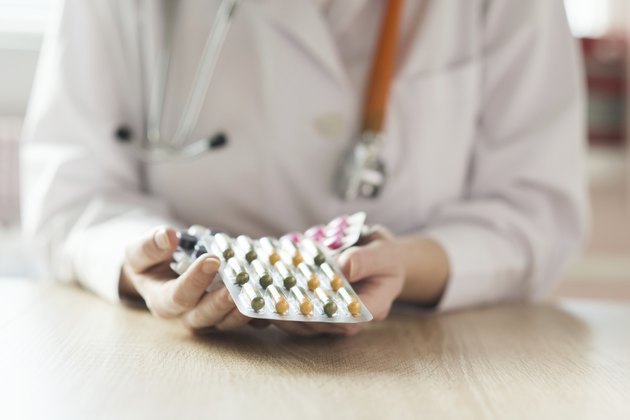 General Needs
For every 1 gram of protein in your diet, you should be getting 47 milligrams -- 0.047 gram -- of tyrosine, the Food and Nutrition Board of the Institute of Medicine reports. For instance, the general protein recommendation is 56 grams a day for men and 46 grams for women. Based on these standards, men need 2.6 grams of tyrosine daily and women 2.2 grams.
Dosage Recommendations
No exact dietary supplement recommendation for tyrosine exists. It just depends on your diet, your overall health and what symptoms you're dealing with. In a 2007 review published in the "Journal of Psychiatry and Neuroscience," researchers discovered that most studies used anywhere from 2 to 20 grams of tyrosine daily for stress reduction and improved cognitive functions. Doses as high as 150 milligrams of tyrosine per kilogram of body weight have been used to treat sleep deprivation. Research is inconclusive as to exact dosage needs for these potential benefits, however.
Taking It Correctly
L-tyrosine supplements need to be taken in multiple doses. Once your doctor helps you determine how much you need each day, split that up into three equal doses. Take one dose at least half an hour before each meal, the University of Maryland Medical Center suggests. Also consider taking other supplements alongside tyrosine. Vitamins B-6 and B-9 and the mineral copper help turn tyrosine into functional brain chemicals. A daily multivitamin should have all of these nutrients. It may be beneficial to split your multivitamin into three equal doses and take it with your tyrosine supplements.
Possible Dangers
Don't take L-tyrosine if you have problems with chronic headaches or bellyaches because the supplement might trigger these conditions. Tyrosine can impact thyroid hormone levels, too. If you have problems with hyperthyroidism, such as with Graves' disease, avoid tyrosine. This amino acid also interacts poorly with drugs that treat depression, hormone imbalances and Parkinson's disease. Before you start taking tyrosine, even if it's a low dose, go over all of your medications with your health care provider, as a precaution.