Watermelon, fat free and a good source of vitamins A, B6 and C, also contains potassium and beneficial natural-plant chemicals such as lycopene and citrulline. Although considered healthy, consuming large amounts of this fruit potentially can result in adverse effects, including digestive problems and cardiovascular and nerve disorders. Components in watermelon may also produce positive side effects.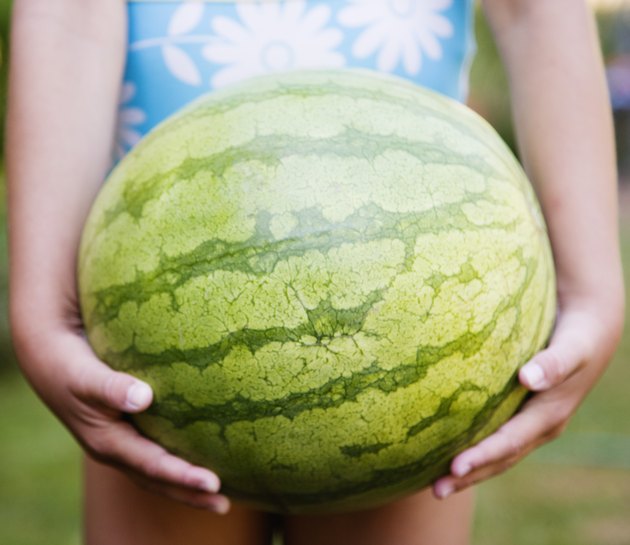 Components
Watermelon contains large amounts of the phytochemical lycopene, possibly more than the lycopene-rich tomato. The U.S. Agricultural Research Service reports 1 1/2 cups of watermelon contain 9 to 13 mg of lycopene. This red plant pigment gives watermelon its color and may act as a strong antioxidant to reduce the risk of cancer and other diseases. Watermelon also contains moderate amounts of potassium, a mineral considered essential for the proper function of all body cells, organs and tissues. Healthy adults need a dietary intake of 2,000 mg of potassium daily, according to Drugs.com. Another phytochemical in watermelon called citrulline is converted to arginine, a protein-building amino acid, which purportedly benefits the heart and circulation.
Gastrointestinal
Although primarily considered safe and beneficial, 30 mg or more of the lycopene in watermelon can potentially cause adverse side effects. Consuming large amounts of lycopene-rich foods, such as tomatoes and watermelon, may result in gastrointestinal disturbances. The American Cancer Society reports that one investigation observed the effects of a lycopene-rich supplement on a patient. The patient took a tomato supplement containing 15 mg of lycopene twice daily and experienced intestinal problems such as nausea, vomiting, diarrhea, indigestion and bloating.
Hyperkalemia
Consuming larger quantities of foods containing potassium, such as watermelon, may adversely affect people diagnosed with hyperkalemia, or too much potassium in their blood. Hyperkalemia can potentially result in dangerous cardiovascular effects such as irregular heartbeats, a weak or absent pulse and cardiac arrest as well as adversely affect nerve and muscle control. The kidneys remove excess potassium from the body, and hyperkalemia often results from kidney malfunction, according to MedlinePlus. A typical wedge of watermelon, or 3 cups, contains around 560 mg of potassium. This is too much for people with serious kidney disorders, according to leading kidney care provider DaVita. A smaller portion of 1 cup has potassium levels of only 176 mg.
Impotence
Consuming an abundance of watermelon may produce effects comparable to the erectile dysfunction drug sildenafil, according to scientists at Texas A&M University. The arginine, produced by citrulline after consuming watermelon, reportedly stimulates nitric oxide which relaxes blood vessels in a manner similar to sildenafil. Many reasons for impotence exist, but the extra nitric oxide obtained from consuming watermelon might help men needing increased blood flow get an erection and improve their heart health at the same time.