Soda is an unhealthy beverage because it's high in calories and sugar but low in vitamins and minerals. Coca-Cola is one example of a type of soda that's sugary and packed with calories, but Coke Zero is one alternative that is sugar-free. The primary difference between Coca-Cola and Coke Zero is that Coke Zero contains zero calories, hence it's name, but that doesn't mean it's more nutritious than regular Coke.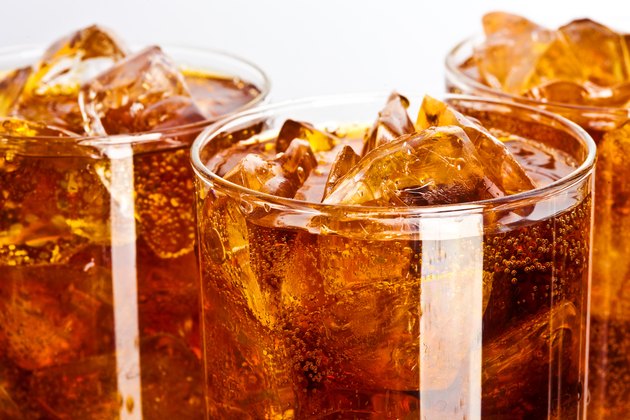 Calorie and Carb Counts
The primary difference between Coca-Cola and Coke Zero is the calorie and carb counts. A 12-ounce serving of regular Coke contains 140 calories and 39 grams of carbs, while the same amount of Coke Zero contains no calories and no carbs. That's because Coke Zero isn't made with sugar, which is what adds the calories and carbs to regular Coke. Though Coke Zero isn't nutritious, limiting your intake of added sugar is one way to reduce your risk of heart disease and type-2 diabetes, according to the American Heart Association.
It's Sweet but Salty
In spite of the sugary, sweet flavor of regular Coke or Coke Zero, these drinks actually contain salt, too. A 12-ounce serving of regular Coke contains 45 milligrams of sodium. That translates to 3 percent of the daily 1,500-milligram sodium limit recommended by the American Heart Association to keep your heart healthy and your weight in check. A 12-ounce can of Coke Zero contains 40 milligrams of sodium. The American Heart Association notes that people who drink sodas are at a higher risk of high blood pressure, partly due to the sodium.
The Risks of Regular
Regular Coke is high in calories and sugar, both of which can contribute to unhealthy weight gain. A 2006 article published in the "American Journal of Clinical Nutrition" reports that drinking sugar-sweetened beverages, including soda, increases your risk of weight gain and obesity. Being overweight or obese, in turn, raises your risk of heart disease, type-2 diabetes and other potentially dangerous health conditions.
Sugar-Free but not Home-Free
Diet soda increases your risk of stroke and heart attack, according to the American Heart Association. The risk increases largely because of the sodium in a serving of diet soda, including Coke Zero. Even though Coke Zero contains no calories, it still might lead to weight gain. According to a 2010 article in the "Yale Journal of Biology and Medicine," people who drank diet soda were just as likely to gain weight as people who drank regular soda. The authors of the study note that drinking sweet beverages, including artificially sweetened ones, increases the appetite, which can lead to a higher food intake and weight gain.
Soda Alternatives
In terms of your overall health and well-being, consider skipping regular Coke and Coke Zero. They each have specific drawbacks that make them an unhealthy part of your diet, not to mention that they don't provide any essential vitamins and minerals. Unsweetened beverages, such as water, iced tea or coffee, are better choices. One hundred percent fruit juice or low-fat milk supply nutrients, such as vitamin C, potassium and calcium, even though they also contain calories. These, too, are better options than plain or diet sodas.