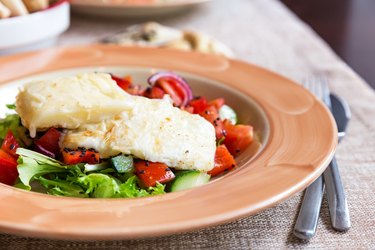 A balanced diet can control weight and ensure that your body is getting the nutrients it needs to function properly and stay healthy. The U.S. Department of Agriculture recommends a diet that includes lean proteins, low-fat dairy products, whole grains and fruits and vegetables. Unfortunately, many foods that are convenient for a busy life are high in sugar and fat, and low on nutrition. But with planning, you can create a menu with healthy foods that are tasty and fit your lifestyle. Consult your doctor before beginning any new diet.
Breakfast
Research indicates that people who eat breakfast ward off late-morning hunger and are more successful at controlling their weight than people who don't. Breakfast fuels the body and revs up your metabolism after a night of fasting. Include as many of the food groups as possible in your breakfast. A vegetable omelet and whole-grain toast provide protein and nutrients to get your body going. If you don't have much time for breakfast, you can eat your omelet on bread like an egg sandwich. Another quick breakfast option is to whip up a smoothie with milk, yogurt and frozen fruit. Include a whole-grain bagel for additional fiber and nutrients. Or have a peanut butter and jelly sandwich for breakfast. Use natural peanut butter and a fruit spread, both without added sugar, on whole-grain bread.
Lunch
The afternoon slump often follows a heavy lunch, so choose a lunch menu that is light and nutritious. Avoid refined or heavy carbohydrates such as pasta and fats that contribute to afternoon fatigue. Sandwiches with lean meat, such as turkey, on whole-grain bread or a bagel are filling and healthy. Add dark green lettuce and tomato for additional nutrients. Use a light mayonnaise or a low-fat condiment such as mustard to control calories and afternoon fatigue. Vegetable soup with a whole-grain roll and a glass of 1-percent or skim milk is also a good option. For lighter fare, have a mixed green salad with a variety of vegetables, lean meat such as chicken or a dairy product such as low-fat cheese, tossed with light vinaigrette dressing.
Dinner
Use dinner to make up for nutrients you might have missed at other meals during the day. If you haven't had any fruit, include some with dinner or as dessert. Choose a lean protein such as chicken or fish. Whole-grain options include brown rice or pasta. A fast, balanced meal includes stir fry with chicken and vegetables served over whole-grain rice. If you prefer Italian, serve spaghetti sauce over whole-grain pasta mixed with vegetables. Sprinkle fresh Parmesan cheese on top for added flavor and dairy.
Snacks
Healthy snacks between meals ward off hunger and ensure you are getting all the nutrition you need. Nuts, such as almonds, with dried fruit is a snack packed with protein and nutrients. An apple or celery with peanut butter also provides protein, fiber and vitamins. Or have air-popped popcorn and a glass of skim milk.
Dessert
Following a balanced diet doesn't mean you cannot enjoy dessert. However, you need to watch your portion sizes and choose healthier dessert options. Low-fat ice cream or frozen yogurt is a sweet treat that avoids too much saturated fat. Peel a banana and freeze it for another frozen treat option. Chocolate lovers can indulge by choosing dark chocolate, which has flavonoids -- an antioxidant linked to cardiovascular and other benefits, according to the June 2005 issue of the "American Journal of Hypertension."