Next time you're looking for a low-fat meat to have for dinner, try a bison stir-fry, bison cooked in the slow cooker, pasta sauce with ground bison or a bison meatloaf. This nutritious meat is lower in fat than beef and lower in cholesterol than chicken, making it a healthy alternative to these more commonly consumed meats. Just remember that the low-fat content makes it easy to overcook bison -- pay close attention while cooking your meat, and cook slowly over low heat to avoid serving tough bison.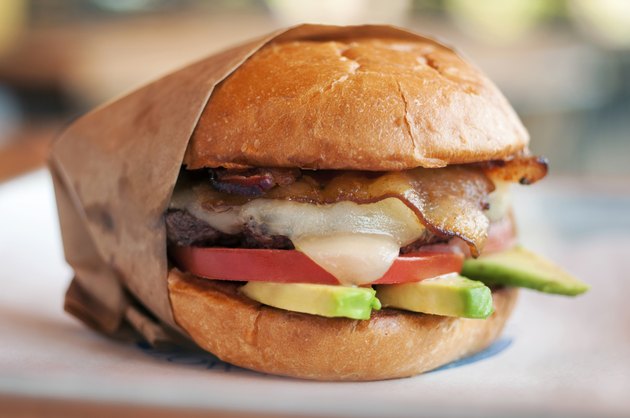 High Protein and Low Fat
A 3-ounce serving of roasted bison meat contains 122 calories, 24.2 grams of protein and 2.1 grams of fat, including just 0.8 gram of saturated fat. This is 48 percent of the daily value for protein, 3 percent of the DV for fat and 4 percent of the DV for saturated fat for those who follow a 2,000-calorie diet. This is less fat than even grass-fed beef, according to a 2012 article published in "Mother Earth News."
B Vitamin Benefits
Bison will boost your intake of B vitamins. Each serving contains 14 percent of the DV for riboflavin, 16 percent of the DV for niacin, 17 percent of the DV for vitamin B-6 and 41 percent of the DV for vitamin B-12. The health of your eyes, hair and skin depends on these B vitamins, which also help you turn the food you eat into energy and ensure healthy liver and nervous system function.
Multiple Minerals
A serving of bison will give you 56 percent of the DV for iron, 18 percent of the DV for phosphorus, 21 percent of the DV for zinc and 43 percent of the DV for selenium. Iron is important for forming red blood cells to bring oxygen where it is needed in your body, and phosphorus helps form strong bones. You need zinc to be able to smell and taste, and selenium for forming DNA and preventing cell damage from free radicals.
Heart Healthy
Swap your beef for bison and you'll be less likely to develop clogged arteries, according to a study published in "Nutrition Research" in April 2013. While eating beef increased both triglyceride levels and markers of inflammation in study participants, eating bison involved a smaller increase in triglyceride levels and no increase in the markers of inflammation.