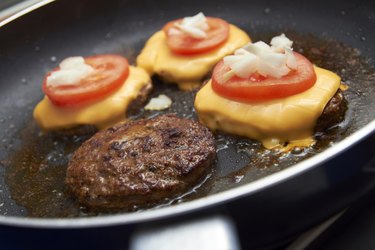 A grilled burger might have that special smoky appeal only outdoor cooking can achieve, but cooking burgers indoors yields juicy, satisfying patties in a snap. It doesn't matter if you use a non-stick, aluminum or cast-iron pan to get the job done; the same techniques apply regardless of your cookware preferences. The secret to cooking burgers in a pan -- or even on the griddle – is as much about your choice of meat as it is about the proper heat.
The Right Meat
Pan-fried burgers cook in their own fat. Lean ground beef might be friendlier for your waistline, but if you want a truly delicious burger, opt for meat with a higher fat content. Chef Bobby Flay recommends making burgers with Certified Angus ground chuck. More expensive types of ground beef don't necessarily yield a better burger, but using ground chuck that's only 80 percent lean -- with a 20 percent fat content -- ensures an inexpensive, flavorful end result. Handle the meat as little as possible when forming patties to avoid tough burgers. For perfect homemade burgers that stay uniformly flat, press a dimple into the center of each patty with your finger before you put them into the pan.
The Right Heat
Searing your burger in a hot pan seals in the juices. Preheat the pan at a high setting, arrange the patties in the pan with space between them, and then lower the heat to a medium-high setting. Pan-frying over high heat gives burgers a lovely, browned outer crust, but dusting patties with flour or cornstarch before cooking makes them even crispier. While your burgers are cooking, resist the urge to flatten them with a spatula. You'll only squeeze out the juices and end up with a dry burger. Cook your burger for 3 to 5 minutes on each side, depending on how "done" you like it.
Faster Burgers
Cookbook author David Joachim recommends adding ice water to ground beef before forming hamburger patties. Not only will burgers cook faster, they'll also retain more moisture. In a chilled bowl, gently blend ground beef and water – approximately one teaspoon per 6 ounces of meat – with a fork. In a hot pan, the water trapped in the meat turns to steam and cooks the center of the patty 10 percent quicker.
Healthier Burgers
A burger can taste great and deliver a healthful bite if you bulk it up with ingredients other than ground beef. Replace approximately an eighth of the ground beef you'd normally use with peppers, cauliflower or zucchini; sauteed, finely chopped vegetables blend more easily and help your patties bind together. Ground turkey, chicken or soy crumbles could replace half of the ground beef in your patties, creating a lower-fat burger that still cooks up moist and juicy.