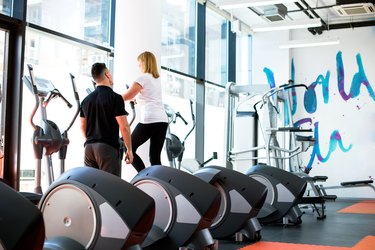 Planet Fitness is an international gym chain that prides itself on being a place where anyone will feel comfortable working out. Members of all fitness levels can get in shape with the use of brand-name equipment and with the help of certified personal trainers. To be a personal trainer at Planet Fitness, you will need a nationally recognized personal training certification, current CPR/AED certification and a passion for helping people reach their fitness goals.
Personal Trainer Certifications
Planet Fitness does not specify which certifications are accepted or preferred, so you can choose from a variety of certification options. Your best bet is to obtain a nationally recognized certification from an organization with a good reputation in the industry. Some certifications you can consider include:
National Academy of Sports Medicine (NASM)

American College of Sports Medicine ACSM)

American Council on Exercise (ACE)

National Strength and Conditioning Association (NSCA)

International Sports Science Association (ISSA)

American Fitness Professionals and Associates (AFPA)

If you are considering or already have a certification that is not widely recognized, you may want to check with Planet Fitness to see if they accept the certification you plan on completing.
Becoming a Personal Trainer
In order to be certified through one of the listed organizations, you will need to be 18 years of age and have a high school diploma or equivalent. Once you have decided on a personal trainer certification, you will need to sign up for the certification and pay the fee. Most programs include study materials as well as the exam. Typically you can choose to have textbooks mailed to you or access a digital version online.
You may also be given online access to a variety of training tools including practices quizzes and tests and online videos and presentations. Some programs give you the option to sign up for live seminars or workshops for an additional fee. You will have to sign up for and attend the workshop in your area on the available dates.
You can study the materials at your own pace. Expect to learn about anatomy, physiology, human movement, client assessments, designing exercise programs, nutrition, working with special populations and how to start your own personal training business. From the day you sign up, you will typically have three or four months to take your personal training exam.
CPR/AED and First Aid Certification
Personal trainers are required to hold a current certification in CPR/AED and first aid. You will need to obtain this prior to employment. Some personal training certifications require that you obtain the certification prior to sitting for your personal trainer exam. You must hold an adult certification that will need to be renewed every two years. Certification teaches you basic first aid as well as resuscitation and other lifesaving techniques. The American Heart Association is an example of a widely accepted certification.
Other Requirements
In addition to personal training and CPR/AED certification, you will need some specific skills and characteristics. According to the Planet Fitness website, personal trainers must have a passion for health and fitness and a positive upbeat attitude. Excellent customer service skills, including interacting positively and professionally with coworkers and gym members is also a must. Planet Fitness also expects personal trainers to have strong listening skills and the ability to empathize and problem solve.