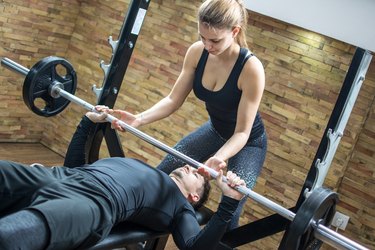 As the popular interest in health and fitness continues to rise, being a personal trainer is a wise career choice for the fitness enthusiast. But before you can get on the gym floor with your first client, you need to get certified. When you're shopping around, choose wisely. Although most of your clients won't know the difference between certifications, your future employers will. A top certification shows you have the skills and knowledge needed to get the job.
ACE
The American Council on Exercise is one of the most recognized names in certifications. ACE offers a variety of fitness certifications, and its personal trainer certification is considered one of the best.
ACE is accredited by the National Commission for Certifying Agencies, or NCCA, an organization that sets industry standards for training fitness professionals. To become certified by ACE, you must be 18 years old, CPR/AED-certified and pass a proctored final exam.
NASM
Since 1987, the National Academy of Sports Medicine has been a leader in the sports and fitness industry. NASM is NCCA-accredited, and its CPT certification is one of the most widely recognized in the industry.
To become a NASM-certified personal trainer, you must be at least 18 years old, CPR-certified and successfully pass the final exam. You must recertify every two years and can add various specialty certifications based on your clientele.
ACSM
The American College of Sports Medicine, founded in 1954, is one of the oldest fitness certification organizations in America. Its long history and reputation for excellence makes it one of the best certifications you can have. The NCCA-accredited certification program requires a high school diploma and CPR certification to register and sit for the examination. After earning the certification, you must recertify every three years.
NSCA
The National Strength and Conditioning Association started offering its CPT certification in 1993, and it is considered one of the most challenging examinations. For that reason, and its NCCA accreditation, it is considered one of the best. To register for the CPT exam, you must be 18, have a high school diploma or equivalent and have a current CPR/AED certification.
AFPA
The American Fitness Professionals and Associates offers personal trainer and advanced personal trainer certification programs. The certification is accredited by Vital Research and, while it isn't as widely recognized as NASM, ACE and NSCA, it is a well-respected certification. To take the online exam you must be 18 years old.
NFPT
Created in 1988, the National Federation of Professional Trainers personal training certification is accredited by NCCA and widely recognized as one of the best personal trainer certifications. You must have a high school diploma, be at least 18 years old and have two years of fitness experience before taking the NFPT certification examination. You must also recertify every year to maintain the certification.
NESTA
Established in 1992, the National Endurance and Sports Trainers Association offers a personal fitness trainer, or PFT, certification. It is one of the less recognized certifications on the list, but it has NCCA accreditation which makes it one of the better certifications you can get. You must be at least 18 years old and have a high school diploma or equivalent to take the NESTA certification examination. NESTA certification is valid for four years before you must recertify.
IFPA
The International Fitness Professionals Association offers several personal trainer certifications including an advanced trainer certification and a master trainer certification. The organization is NCCA accredited and has been around since 1994. You must be at least 18 years old, have a current CPR certification and a high school diploma to take the IFPA personal trainer certification. You must recertify every two years.
Cooper Institute
Established by Kenneth Cooper, M.D. in 1970, the Cooper Institute is a nonprofit research and education organization for medicine and health. The Cooper Institute also offers a well-respected and NCCA-accredited personal trainer certification. You must be at least 18 years old with a current CPR certification to take the Cooper Institute exam.