Creatine supplements are popular among athletes to provide additional energy for high-intensity, short-term activities such as sprinting and weight lifting. (See Ref.3, p.284; Ref. 2, p.1-2 ) Although there have been some anecdotal reports -- and stories in the popular press -- about the detrimental effects of creatine supplements, many controlled scientific studies have shown they are safe when taken in recommended dosages. However, there is a potential for harmful side effects if you take them with certain medicines.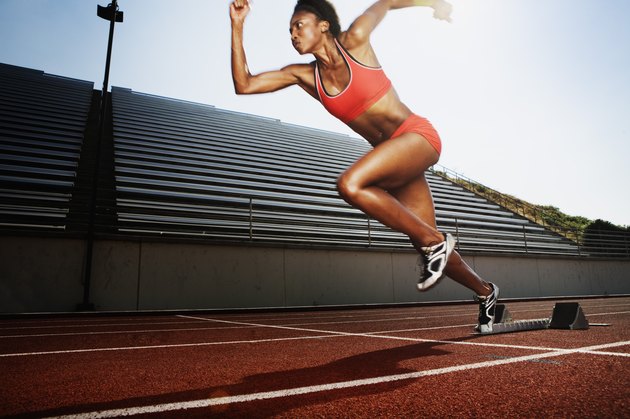 How Creatine Functions
Creatine is a naturally occurring nitrogen compound synthesized from three amino acids in the body. (See Ref.1, p. 1108) About half the creatine in your body is obtained from your diet, primarily from meats and fish, and the remainder is synthesized in the liver, kidneys, and pancreas. (See Ref. 2, p.1) During the demands of exercise, creatine stored in the muscle as creatine phosphate is used to generate the ATP molecule, which provides energy for muscle contraction. (See Ref. 1, p. 1108) Creatine is then converted into creatinine, a waste product excreted by the kidneys. Additional creatine provided by supplements could potentially increase a burden on the kidneys. (See Ref.3, p. 287)
Creatine Use
There is some evidence to support creatine use among athletes to increase performance during high-intensity activities. Creatine sports drinks have become popular following the finding that solutions containing carbohydrate in addition to creatine increase muscle creatine levels more that creatine alone. (See Ref. 4, p. 1170) Creatine supplements are commonly taken by high-level "loading," 20 gms daily for 5 days, or by 2-3 grams over a longer period (maintenance).(See Ref. 2,p. 6)
Dehydration
Athletes must always be concerned of the risk of dehydration, especially during hot weather. To avoid the risk of dehydration, athletes must drink extra water, especially during periods of hot weather. Dehydration can lead to muscle cramps, fever, seizures, and electrolyte imbalances. Anecdotal comments and media reports suggested that creatine use may increase the risk of dehydration. It was hypothesized that the increased uptake of creatine within muscle cells is followed by an increased transfer of water from the blood to muscle cells via osmotic pressure. However, Lopez and colleagues conducted an extensive literature review of 95 studies (See Ref. 7, p. 215) and concluded that creatine supplementation at recommended dosages neither hinders the body's ability to dissipate heat nor negatively affects the body's fluid balance. Watson and colleagues (See Ref.8 p.18)studied the effect of creatine supplementation on heat tolerance and hydration status in dehydrated athletes following exercise tests. They concluded that creatine use did not increase signs or symptoms of heat stress or dehydration.
Creatine Supplementation Normally Safe
Anecdotal (personal) observations suggest that creatine can cause stomach pain, nausea, and diarrhea. However, controlled scientific studies have not shown any detrimental effects on liver, muscle, or kidney function from creatine supplementation by healthy person at usual loading or maintenance doses. (See Ref. 1, p.1108; Ref. 3, p.287)
Possible Kidney Damage Risk With Certain Medications
Taking high doses of creatine in combination with drugs toxic to kidney cells (nephrotoxic) increases the risk of kidney damage (See Ref. 5 & 6). Examples of potentially harmful drugs include non-steroidal anti-inflammatory drugs (NSAIDs) ibuprofen (Motrin, Advil) and naproxen (Aleve). Other nephrotoxic drugs include Cimetidine (Tagamet) and Probenicid. Diuretics should not be used due to the risk of dehydration. This is not a complete list. If an athlete is taking medications, he or she must consult with a physician prior to using creatine supplements.