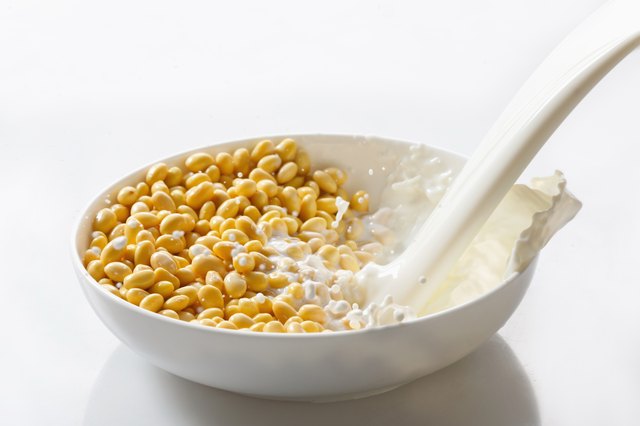 Unlike other vegetables, soy, an edible crop from Asia, is a complete source of protein containing all nine of the essential amino acids in adequate amounts. Amino acids determine the structure and function of proteins. Soy may also have many other health benefits, such as lowering blood pressure and cholesterol. However, patients with gouty arthritis should eliminate soy from their diet. Soy contains compounds called purines, which can make gout worse.
Soy and Gout
A high intake of purine-producing foods like soy can increase the amount of uric acid in the blood. Uric acid is a product of purine metabolism. Excess uric acid builds up and forms needle-like crystals in a joint. This causes the involved joint to be inflamed. Gout can be treated through healthy lifestyle, proper diet and right medication. Clinicians commonly recommend allopurinol, a drug that blocks the production of uric acid by the body.
Amount of Purine in Soy
There is insufficient information available about the exact purine content of soy. Generally, it is better to avoid foods that supply more than 150 mg of purine per 100 g. All purines eventually end up as uric acid. The enzyme phosphoribosyl pyrophosphate is proposed as the driving force of uric acid overproduction. Excess uric acid forms urate crystals in joint spaces and set the stage for gout.
Tofu and Gout
Patients with gout should restrict purines in their diets. Soy foods like miso, tempeh, soy milk, soy sprout and soy yogurt have moderate amounts of purines in them. Nevertheless, a gout sufferer can use soy protein from tofu, a soft food product made from soybean milk. Unlike most soy foods, tofu is low in purines but high in protein. This makes a substantial contribution to nutrition.
Other Adverse Effects
Isoflavones, a group of phytoestrogens, in soy may affect thyroid function. So, individuals with impaired thyroid function shouldn't consume soy in large amounts. Soy isoflavones inhibit the enzyme thyroid peroxidase that is essential for utilizing iodine by the thyroid gland. Soy can also produce allergic symptoms like rash, nausea, difficulty in swallowing, wheezing and low pulse.