Physical therapy is a vital part of recovering from a fractured back, whether it's a compression fracture, which occurs when your vertebra weaken and crumble, or spondylolosis, a fracture in the vertebral arch, typically in the lower region.
A fractured back means you'll most likely be required to wear a brace, which keeps the bones stable while they heal, but gentle exercises strengthen the spinal muscles so those bones are better supported. Don't skip the exercises, as a broken back can cause poor posture. The rounded shape of bad posture can lead the spine to heal incorrectly and increase the risk of another fracture.
Remember, a fractured back is a serious injury. Only begin an exercise routine once given the approval by your doctor and, in most cases, only under the care of a licensed physical therapist. Some back injuries, such as spondylolysis, are likely to reoccur if you work the injured area too quickly.
Pelvic Tilt
This gentle exercise helps you become aware again of anterior and posterior tilting of the spine, as well as relearn what a neutral pelvis position feels like. It also helps to increase your lower back's range of motion. To do the pelvic tilt, lie on the ground on your back with your knees bent and feet flat on the floor. Place two fingers on each hip bone, and then tilt your pelvis up while you flatten your back into the ground. Hold for 3 seconds, and then release the movement. Next, tilt your pelvis down, so your lower back lifts off the ground for three seconds. Release and repeat.
When you've progressed, your physical therapist might introduce you to doing pelvic tilts on a stability ball. When you're sitting on the ball, place your hands on your hips and tilt the pelvis forward, just as you did when you were lying down. Release and tilt your pelvis back.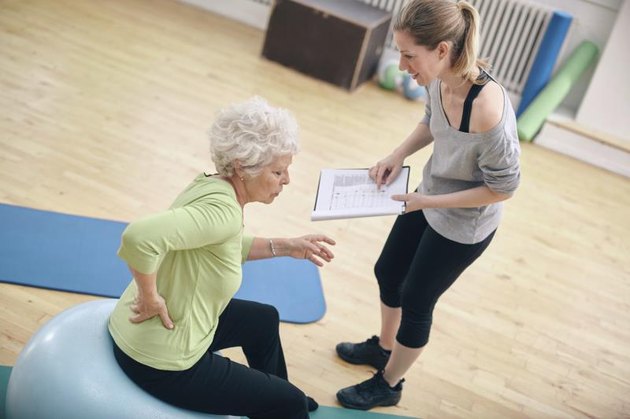 Abdominal Strengthening
When it comes to rehabbing a bad back injury, it's not all about the muscles in your back — you also want to strengthen your abdominal muscles, so you build a strong core. This helps lessen the chance of recurrence.
For a simple and safe abdominal strengthening exercise, lie on the floor on your back with your knees bent and your feet flat on the floor, about hip-distance apart. On an exhale, contract your pelvis and lower abdominal muscles and hold for five to 10 breaths. Release the contraction, rest for a moment and then repeat.
Hip Bridge
The hip bridge builds the muscles of your back, hips and legs. To complete a repetition, lie on the ground on your back and place your hands by your sides. Scoot your heels back so they're near the bottom of your glutes. Press your feet and shoulders into the floor and lift your hips up, so you form a line from your knees to your shoulders. Hold for 20 to 30 seconds and release.