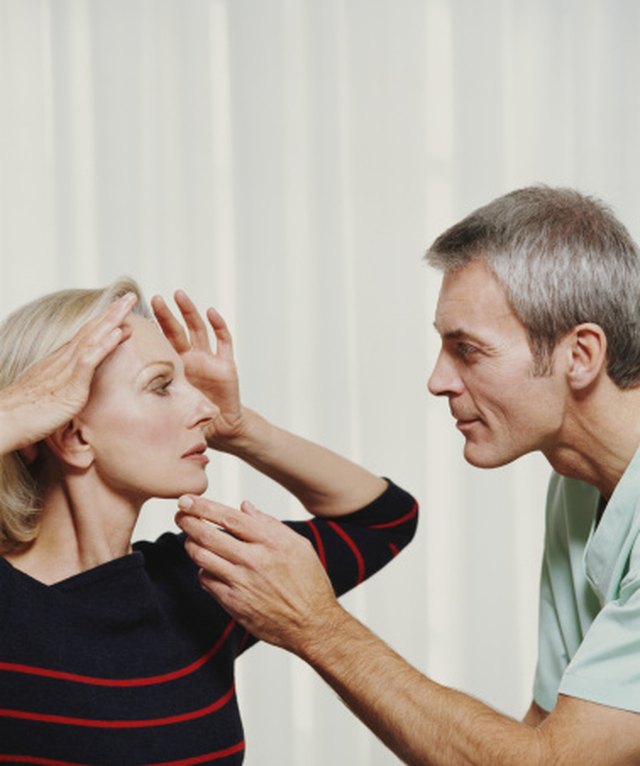 Workout regimens usually focus on weight loss or building muscle mass in the limbs. However, facial muscle tone shouldn't be overlooked. Toned jaw muscles help tighten your facial skin and define the jawline. Your jaw muscles also impact your ability to eat harder foods without discomfort or strain. If you suffer from temporomandibular joint dysfunction, jaw muscle exercises may improve your condition. These exercises only take a few minutes each day, and they can be performed without any special equipment.
Step 1
Relax your shoulder blades and let your lower jaw relax. Proper posture ensures a better jaw workout.
Step 2
Relax your tongue and make the "M" sound. Keep your jaw relaxed, and make sure your teeth don't touch. Move your lower jaw up and down and side to side to warm up the muscles.
Step 3
Open your mouth as wide as possible without inducing pain and move your jaw back and forth. Repeat this action at least 10 times, then relax your jaw muscles.
Step 4
Open your mouth and move it from side to side while applying resistance with your hand. Perform at least 10 repetitions of resistance movement to promote stronger jaw muscles.
Step 5
Press on your temples with your fingers and clench your jaw. You should feel the muscles tensing underneath the skin as you press. Circle your fingers around the tensed muscle, massaging the area. This massage technique combined with jaw clenching promotes muscle tone and may relieve some TMJD symptoms.
Tip
For best results, exercise your jaw muscles at least twice each day.
Warning
If you suffer from TMJD and find jaw exercises painful or that your condition is becoming worse, consult your dentist or doctor as soon as possible.