Muscle mass supplements can be beneficial for helping you reach your physical fitness goals quickly, but they are not without disadvantages. Even basic supplements such as protein powder can have potential drawbacks that may outweigh their effectiveness, depending upon your goals. You should consult a medical professional before starting a workout program and before using any supplements.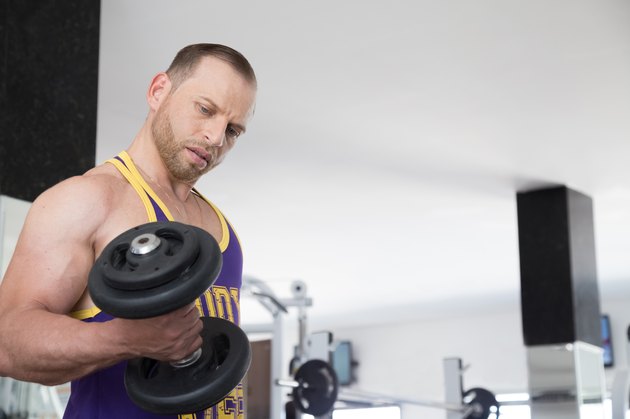 Increased Muscle Strength
While supplement manufacturers may make dramatic claims that seem improbable, research indicates that some muscle mass supplements can actually enhance your muscular strength. According to a study from the November 2003 issue of the "Journal of Strength and Conditioning Research," creatine supplementation can significantly improve your strength when combined with resistance training.
Increased Muscle Mass
Resistance training can provide the stimulus for muscle growth, but unless you provide your body with the proper nutrients, you won't see results. Research from the June 2010 issue of "Nutrition & Metabolism" indicates that the supplement whey protein may be more beneficial than other protein sources at promoting increases in muscle size and enhancing recovery from workouts.
Increased Fat Burning
Many muscle supplements contain branched-chain amino acids. Amino acids are the building blocks of protein, and are used to build muscle. The March 2011 issue of the "Journal of Sports Medicine and Physical Fitness" reports that use of branched-chain amino acid supplements on diets can increase fat oxidation, or fat burning, during training sessions.
Improved Blood Flow
One popular type of bodybuilding supplement is the preworkout supplement. These products typically contain arginine, which helps promote the production of nitric oxide. Nitric oxide can help improve blood flow to your muscles, which may result in improved nutrient delivery and better performance during workouts.
Gastrointestinal Problems
Using certain muscle mass products can lead to gastrointestinal discomfort. Creatine, found in many muscle mass supplements, may produce upset stomach and diarrhea. In addition, if you are lactose-intolerant, you may experience bloating, nausea and cramps from using dairy-based protein products such as whey.
Insomnia
Many muscle mass products combine creatine and caffeine to help you have more intense workouts. However, regular use of caffeine-containing products can be troublesome. While caffeine's energy-enhancing effects can be beneficial for workouts, the substance can also produce restlessness, insomnia and anxiety, particularly if taken close to bedtime. In addition, the University of Maryland Medical Center explains that supplements using the combination of creatine and caffeine can increase your risk of dehydration.
Kidney Damage
Although creatine is one of the most popular muscle supplements due to its research-backed effects on muscle mass and its relatively low price, some studies suggest that creatine use may cause side effects. Research from the March 2001 issue of the "Journal of Sports Medicine and Physical Fitness" avers that creatine use may cause long-term renal, or kidney, damage.