One of the tried-and-true methods for weight loss entails cutting out sweets. The amount of weight you lose on a reduced-sugar or sugar-free diet plan will depend upon the amount of sugar you currently eat. Some people just eliminate daily desserts when cutting out sweets, while others also stop drinking soda or eating processed foods high in sugar.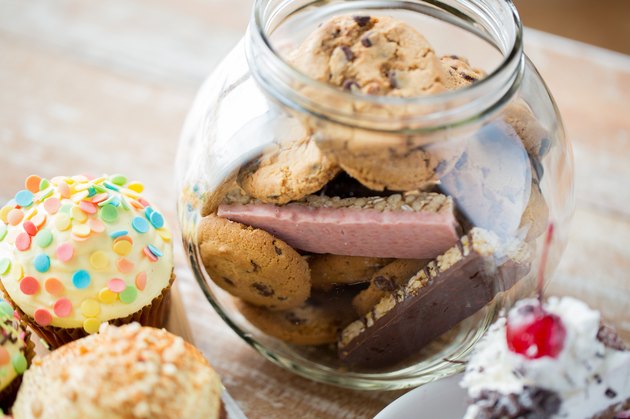 Skipping Dessert
If fattening desserts are part of your daily food intake, cutting them out can save you as much as 500 calories per day. However, not having dessert may feel too strict, and you may do better with a dessert swap, such as eating a bowl of fresh berries with a dollop of yogurt instead of chocolate cake. Swapping dessert for fresh fruit trims about 400 calories from you calorie intake. Cutting 400 to 500 calories per day results in a loss of around 1 lb. per week.
Skipping Sugary Drinks
Sugar-packed beverages add ample calories to your diet. For example, sweetened coffee drinks that have flavored syrups may add as many as 500 calories to what begins as a calorie-free beverage. The average 12-oz. serving of soda or sugary juice beverage contains 10 to 12 tsp. of sugar, totaling about 150 calories. These nutritionally empty, calorie-packed sources of sugar do not reduce your appetite. Replace sweetened beverages with plain water, unsweetened iced tea or club soda with a twist of lime and you can trim 150 to 300 calories per day from your diet, depending upon the amount of sweet beverages you usually consume. You can lose another 1 to 2 lbs. per month by making this switch.
Hidden Sources of Sugar
One of the more challenging aspects of reducing your intake of sweets is analyzing processed food and restaurant foods. Many cereals, breads and frozen entrees contain a high amount of sugar or corn syrup, even if they do not taste sweet. The same holds true for salad dressing, gravies and sauces. Analyze nutrition labels to see if sugar or sweeteners is one of the first ingredients listed. As much as possible, replace processed foods with whole, natural foods.
Lifestyle Changes
Cutting out sweets can become more challenging over time. Rather than take an all-or-nothing approach to sweets, consider reducing your portion sizes. Eat an ounce of dark chocolate instead of that stack of Christmas cookies or the box of Valentine's Day candy. Indulge in a sweetened coffee drink once a week during Sunday brunch. The more you can accommodate sweets without overindulging, the better luck you will have maintaining your weight loss in the long term.