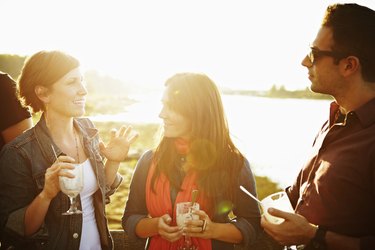 Most people know the keys to maintaining a healthy weight: exercise regularly, drink lots of water, consume lean meats, and fill your plate mostly with fruits and vegetables.
But how does enjoying a cocktail after a long day factor into that equation? Which is the better choice, red wine or light beer? And is there a way to indulge in a favorite cocktail without piling on the calories?
"Some people think liquid calories don't count," said Janet Brill, Ph.D., registered dietitian and author. "People should be conscious of the caloric content of drinks. You forget yourself in the company of friends."
So, before you order that second round of beer at happy hour or pour another glass of wine at dinner, know what that extra drink is going to cost you in calories.
Some people think liquid calories don't count. People should be conscious of the caloric content of drinks.

Janet Brill, Ph.D., registered dietitian and author
So What's the Calorie Buzz on Beer?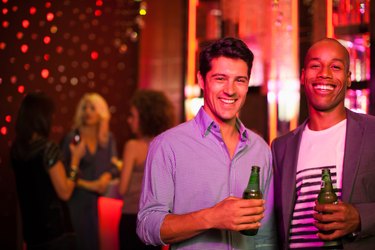 A standard 12-oz. bottle of beer contains about 150 calories, while the "light" versions offer about 35 fewer calories, said Brill, author of "Cholesterol Down: 10 Simple Steps to Lower Your Cholesterol in 4 Weeks -- Without Prescription Drugs" and "Prevent a Second Heart Attack: 8 Foods, 8 Weeks to Reverse Heart Disease."
Keep in mind that if you're at the bar, most beer is served in pint glasses, which adds 25 percent to that total.
In moderation, though, some beer could be good for you.
A study published in the February 2010 issue of the "Journal of the Science of Food and Agriculture" reported that drinking beer may help build better bones and reduce the risk of osteoporosis because of its high dietary silicon content. Beers containing high levels of malted barley and hops appear to be the most beneficial.
But while some people may perceive that beer is a safer than liquor or wine, the Centers for Disease Control and Prevention warns that it is the amount of alcohol that affects a person, not the actual type of alcoholic drink.
Experts agree that the common practice of consuming finger foods and appetizers during a typical happy hour can derail anyone's diet. A handful of nuts, chips or pretzels combined with a jumbo-size glass of beer can easily exceed 450 calories.
"Don't drink on an empty stomach or you'll want to munch more," advised "Dietitian in the Kitchen" Diane Henderiks, a registered dietitian, personal chef and television personality.
And What About Calories in Wine?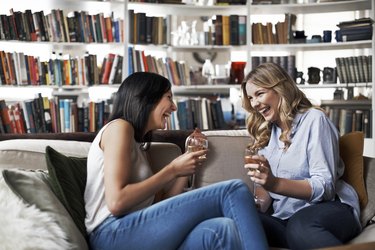 Holly Clegg, author of the cookbook "Too Hot in the Kitchen: Secrets To Sizzle at Any Age," doesn't drink red wine but likes to dress up her white wine beverages to make them healthier.
"I add fresh fruit to my wine," Clegg said. "Fresh peaches and berries add just the right choice -- and what a great way to include more fruit in your diet. To stretch the wine, sometimes I add a little zero-calorie club soda."
A typical 5-oz. serving of white wine contains about 110 calories, while the red versions are slightly higher at 120 calories. A 5-oz. glass of champagne also has 120 calories.
Consuming the occasional glass of red wine can be healthy for the heart and beneficial in lowering cholesterol, Brill said. Out of all the different wines, red wine also contains the most powerful antioxidants. She also points out that consuming a glass of wine with dinner can keep you from overeating.
"A glass of wine with dinner causes people to slow down, relax and savor their foods," Brill said.
Cocktails Can Be a Calorie Pitfall
They're fun, fruity and often served in pretty glasses with beautiful garnishes of fruit. But cocktails often are swamped with sugar and alcohol, Brill notes. For example, a mai tai containing 5 oz. of liquor has enough calories to equal the entire meal you had for lunch.
Henderiks recommends enjoying the best of both culinary worlds by replacing a slice of cake with a fruity low-calorie cocktail or coffee drink with liqueur. Also, if you're at a party or other social gathering, alternate alcoholic beverages with nonalcoholic drinks.
"Have a drink, then a splash of seltzer with cranberry juice," Henderiks said. "This keeps you hydrated."
"When I am having people over to 'cocktail,' I think it is fun to serve a signature drink," Clegg said. "Delicious yet healthful ingredients that make a difference, such as green tea and pomegranate juice, make you feel better about that drink."
Creating fun "mocktails," or nonalcoholic cocktails, is another way to indulge without blowing your caloric intake for the day.
"My whole philosophy is to be a smart eater and drinker," Henderiks said. "If you understand the things that have the most calories, you'll know how to work the things you love into your diet."
Cranberry Margarita Tea
Mocktails are a fun way to enjoy your favorite cocktails without all the guilt. Most drink recipes can be modified by simply leaving the alcohol portion out and including an appropriate substitute. Make your mocktails even healthier by including fresh fruit, preferably those high in antioxidants, and calorie-free mixers such as sparkling water or diet tonic water.
Try turning this recipe from cookbook author Holly Clegg into a mocktail by substituting nonalcoholic margarita mix. Any type of tea may be used.
1 20-oz. bottle green tea with honey 2 1/2 cups cranberry juice cocktail 1 cup nonalcoholic margarita mix 1/4 cup honey Fresh cranberries for garnish
In a pitcher, mix all ingredients. Refrigerate and serve over ice. Makes six (1-cup) servings. One drink equals 173 calories.