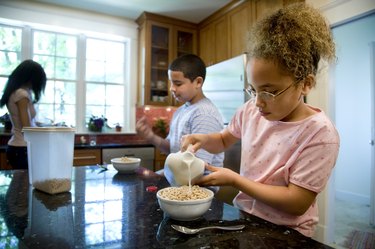 Helping a 12-year-old lose weight can take encouragement and perseverance on your part. You'll need to guide your child so that they consume fewer calories than they burns. To do this, provide lean, healthy meals and snacks that befit their calorie expenditure. Work the other side of the weight loss equation by encouraging your child to become more active. Habits established in childhood often persist into the adolescent years -- and into adulthood. Invest in your child's future by helping them live healthier while they're still young.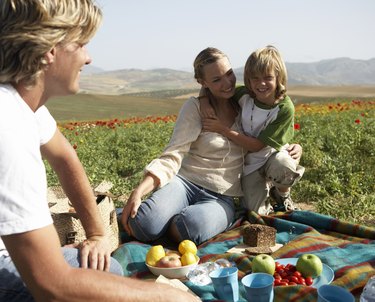 Children who have at least one parent with obesity have a 50 percent chance of having obesity themselves, according to a March 2011 article on the American Academy of Child & Adolescent Psychiatry website. Be a good role model. Establish healthy dietary practices for your entire family. Take charge of your family's shopping list and menu plan. Bring only healthy, calorie-wise foods into your home.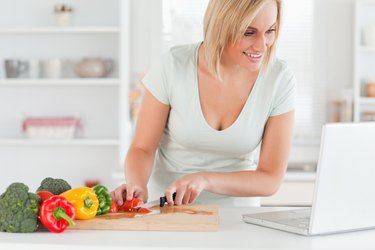 Sudden restrictive changes in diet are difficult to implement and even harder to sustain. Instead of making a huge overhaul in your child's and family's diets, make steady improvements. Most families tend to have nine or 10 recipes that comprise most of their meals, reports a November 2009 Mail Online article. Search recipe books, magazines and online sources to find lean, healthy recipes. One by one, try them. As you find recipes that your 12-year-old and family enjoy, add them to your routine repertoire.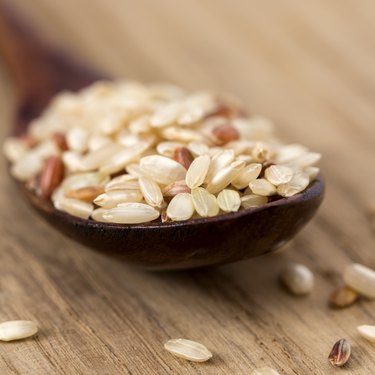 While empty-calorie foods, such as chips, bakery items, candy and full-sugar soda, contain plenty of calories, they provide few nutrients. Delete these foods from your shopping list. Foods to steadily remove from your cupboards and fridge include sweets, snacks and foods high in starch. Provide fruit as snacks. For example, core and slice apples -- and serve them with a dollop of peanut butter or yogurt as a dip. Prepare fruit salads in advance for between-meal munchies. Replace white bread and white rice with whole grain bread and brown rice. Don't keep full-sugar soda or fruit juice around the house. Instead, provide your child with water or low-calorie beverages.
Save fatty, fast and fried foods for special occasions. Stop going to fast food restaurants as they offer few low-calorie, low-fat items that your 12-year-old is likely to select. Replace whole milk with skim milk and full-fat dairy with low- or non-fat products. Avoid cream sauces, butter, margarine and heavy oils. Minimize fatty meats. Serve baked fish, or skinless turkey or chicken breast.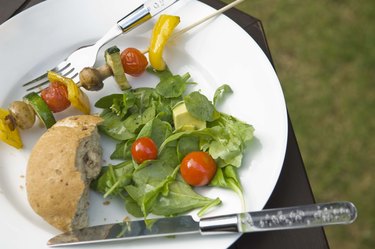 Help your child learn to love vegetables by incorporating them into your main dishes. Load stews, stir fries, chilis, casseroles, soups and even pasta sauces with vegetables. Serve vegetables or salads as sides at every meal.
Promote Physical Activity
Encourage your child to participate in activities that involve physical activity. Examples of activities your 12-year-old child might enjoy include tennis, swimming, self-defense classes, dance and gymnastics. Plan family activities that get the heart pumping, such as hiking, biking, tossing a flying disc, rock climbing, kite flying and table tennis. Don't let your child spend hours in front of the TV, video console or computer. Insist he do physical activity -- such as playing outside, walking the dog or biking -- to earn screen time.