Grabbing a handful of grapes instead of a bag of chips is certainly a healthier dietary decision. This choice also supports weight loss, but grapes themselves aren't a weight-loss wonder. Eat too many calories worth of grapes -- or any other food -- and you'll exceed your daily calorie needs, thus preventing weight loss. One cup of grapes fulfills one of your fruit servings per day and counts as a whole, unprocessed food. Compounds in the fruit promote good health, but they won't have magical effects on your size.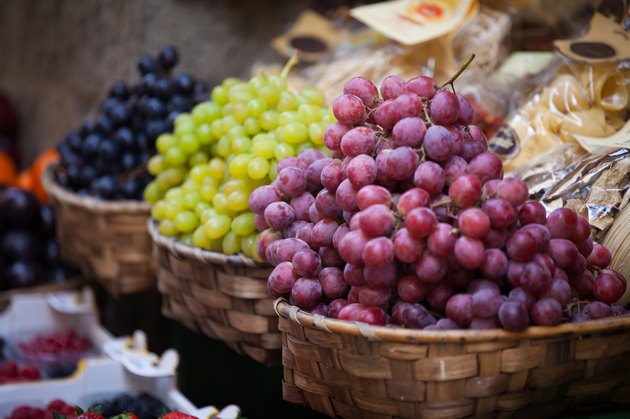 Claims About Grapes, Resveratrol and Weight Loss
Dark purple grapes contain a powerful antioxidant known as resveratrol in their skin, which early research linked to having cancer-, heart disease-, and diabetes-fighting properties. This research also suggested that consuming more of the antioxidant might help with obesity. But a diet rich in grapes, grape juice and wine fails to follow through as having such benefits on your health, noted a 2014 issue of the Harvard Health Letter. In most studies showing correlations between the antioxidant and health benefits, the dose of resveratol was much greater than you could consume in your diet, even if you included large servings of grapes.
In a 2015 study published in the Journal of Obesity, high doses of resveratrol was found to stimulate the development of brown fat -- a healthier fat found in babies and hibernating animals -- rather than obesity-causing white fat. This study, though, only noted the effects of the antioxidant in mice and can't be translated to resveratrol consumption and humans, especially if your source of resveratrol is only from grapes.
An earlier study on rats published in the Journal of Physiology and Biochemistry in 2014 determined that resveratrol had no effect on obesity. In this study, animals were fed a low-calorie diet to induce weight loss. Those given resveratrol in addition to the dietary restrictions did not experience any additional weight-loss benefit.
Ellagic Acid and Weight Loss
Ellagic acid is a compound found only in muscadine grapes, a dark-red variety native to the southeastern United States, and it is touted as having positive fat-burning effects. In a lab at Oregon State University, reasearchers exposed human liver and fat cells to ellagic acid and found that it slowed the growth of existing fat cells, deterred the formation of new fat cells and boosted liver cells' ability to metabolize fatty acids. This 2015 research should not encourage you to consume muscadine grapes to help with weight loss; instead, it suggests that the compound in the grapes might help with liver function in overweight people.
Grapes' Role in a Weight-Loss Diet
Lose weight by eating fewer calories than you burn. A week of keeping this deficit to 500 or 1,000 calories leads to a loss of 1 to 2 pounds. Grapes can be a nutritious part of your diet when trying to lose weight, but they aren't going to induce weight loss.
You can't rely on one food to help you lose weight. Eat more whole, unprocessed foods in general, such as fresh vegetables, lean proteins and whole grains. Snack on fresh fruit -- such as a cup of grapes -- small servings of nuts and low-fat yogurt. Limit sugary drinks and alcohol. Move more, too, as part of your general weight-loss strategy. Go for at least 150 minutes of moderate-intensity cardio weekly; participating in more can result in bigger losses.
When figuring grapes into your meal plans, know that a cup of fresh grapes contains about 100 calories along with some vitamin C and fiber. Muscadine grapes are higher in fiber than the regular Thompson seedless variety. Fiber can be beneficial on a weight-loss plan because it slows digestion and helps you feel full for longer.
Eating Grapes and Weight Gain
Grapes are refreshing and sweet, making them easy to overeat. Measure before you start snacking to ensure you're sticking to your calorie goal. Fruit has nearly three times the calories per serving as non-starchy vegetables. If you always reach for fruit as a snack, you might be inhibiting weight loss -- especially if you think of it as a food whose calories don't count. Grapes are lower in calories per serving than granola, cookies, snack crackers and energy bars, but overeating any food can inhibit weight loss.
Choose the type of grape you eat wisely too. Canned varieties packed with sugar carry nearly twice the calories of fresh. Try washing, drying and freezing whole, fresh grapes for a cool snack that takes longer to eat.