Few foods have as much bona fide health cred as quinoa: It's both whole-grain and gluten-free, low in fat, a good source of protein, and rich in antioxidants; in other words, it's pretty much a nutritional slam dunk.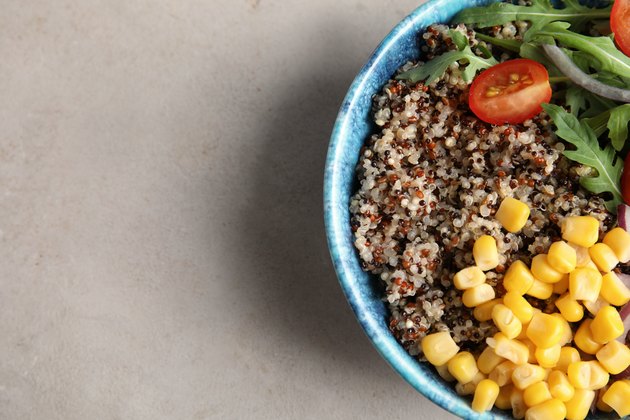 But quinoa is also high in carbohydrates — which can pose a problem if you're following a low-carb meal plan like Atkins or the keto diet.
But before you write off this pseudocereal, as food scientists call it, it's important to understand how the carbs in quinoa differ from those in refined grains and starches. This can help you decide whether or not to incorporate it into your diet and the best ways to do so.
Quinoa Nutrition Facts and Figures
Although it's classified as a whole grain, quinoa is actually the seed of a plant native to the Andes region of South America, related to Swiss chard, spinach and beets. Cooked quinoa makes a nutritious, gluten-free addition to any diet, providing a valuable source of fiber and vegetarian protein.
There are more than 120 varieties of quinoa, including white (also known as golden), red and black. Nutritionally, they are all similar: A half cup of cooked quinoa contains 111 calories, 4 grams of protein, about 2 grams of fat and almost 20 grams of carbohydrates, according to the USDA. Because nearly 3 grams of the carbs in quinoa are from fiber, it contains 17 "net grams" of carbs. (Some people on low-carb diets count net carbs, which is a measure of total carbohydrates minus fiber and sugar alcohols — both of which have little effect on blood sugar.)
Unlike most plant-based foods, quinoa is considered a "complete protein" because it contains all seven essential amino acids, according to Harvard T.H. Chan School of Public Health. Quinoa also has a higher ratio of protein to carbs than other whole grains.
Quinoa also supplies a variety of other nutrients, including B vitamins (except vitamin B12) and vitamin E, and minerals such as iron. According to the National Institutes of Health, a half cup of quinoa contains 17 percent of a man's daily iron requirement and almost 8 percent of a woman's.
How Quinoa Fits into a Low-Carb Diet
Depending on the specific plan, people on low-carb diets may be advised to limit their carbohydrates to anywhere from 20 to 130 grams a day. For those on the low end — like those in the first phase of the Atkins 20 diet, or any other plan designed to put the body in a ketogenic, fat-burning state — even one serving of quinoa is too many carbs for one meal, says Franziska Spritzler, RD, author of The Low-Carb Dietitian's Guide to Health and Beauty.
"Quinoa is a really great substitute for people who can't have gluten," says Spritzler. "But it's definitely not a keto food: It's high in carbohydrates, and it doesn't have all that much fiber in relation to digestible carbs."
For people on more moderate low-carb diets — who are allowed 50 or more grams of net carbs per day — quinoa can be eaten in small quantities, Spritzler says. On the Atkins 20 diet, for example, small quantities of quinoa are allowed in phases three and four, which are designed for maintaining weight loss after reaching one's goal.
Why Quinoa May Be Worth an Exception
How to Enjoy More Quinoa
Quinoa is a versatile food, and it can be enjoyed in many different ways. It has a mild, slightly nutty taste and easily soaks up other flavors, like lemon, spices and olive oil.
Rinse quinoa in water before cooking, advises the Academy of Nutrition and Dietetics; this will remove residual saponins, a natural but bitter coating that keeps insects away while the plant is growing.
The grain cooks quickly, in just 10 to 15 minutes. You can enjoy quinoa hot or cold, as a side dish for your fish or chicken, or as a salad with fruits, nuts and veggies.
Use quinoa as a protein-rich alternative to rice in your recipes, or as a gluten-free substitute for couscous in Middle Eastern dishes like tabbouleh. You can even try making a quinoa porridge for breakfast, or incorporating quinoa flour into gluten-free baked goods.