It's no secret that the ketogenic (or keto) diet is very restrictive. However, planning out your meals in advance and packing healthy keto snacks to take on the go is the key to maintaining this low-carb lifestyle — and burning major fat!
"The keto diet is a high-fat, very low-carbohydrate diet with the goal of changing the way your body fuels itself. Instead of using carbs, your body turns to its fat stores to break down and use as energy," a state called ketosis, explains Pam Nisevich Bede, RD, a registered dietitian and keto expert with ZonePerfect. The goal is to cut carb intake down to 5 to 10 percent of daily calories, increase fats to make up about 75 to 80 percent of daily calories and leave the remainder for protein.
However, remaining in ketosis is dependent on being prepared, and that requires having healthy, low-carb snacks that tame cravings on hand.
Snacks have the potential to make or break a diet, so it's important to choose ones that fit the keto structure and keep you in that fat-burning zone. You should also choose snacks that are packed with nutrients, as these will help keep you fuller longer and provide essential vitamins and minerals to strengthen your muscles and provide sustainable energy. Look to these healthy and convenient keto snacks that just happen to be very delicious too!
Veggies and Dip
You can feel great about chopping up veggies and dunking them in a creamy dip. "Cucumbers, celery, zucchini and mushrooms are all naturally low in carbohydrates and are great to be paired with a low-carb dip," says Bede. Try this rich, creamy artichoke dip from Ruled.me, which is high in fats, low in carbs and full of flavor.
Plus, the veggies provide important vitamins and minerals and boast a high water content to keep you hydrated. According to a July 2014 study published in Nutrients, a common side effect of the keto diet is dehydration, so eating foods that boost hydration levels, in addition to drinking plenty of water, can counteract the effects.
Nuts
Nuts, as well as nut butter, are a great snack option for people following the keto diet as they're high in healthy fats and low in carbs. "Pecans, macadamia nuts and Brazil nuts are ones with lower carb counts, whereas cashews and pistachios contain more carbs," says Bede. You can enjoy all nut varieties on keto by simply monitoring portion size to stay within your daily carb count.
You can also spice up your snack by coating nuts in unsweetened cocoa, says Dana Angelo White, RD. "Roast raw almonds on a sheet pan to release their oils, and then dust with some unsweetened cocoa powder and a sprinkle of sea salt," she says. Then, all you have to do is store them in an airtight container, portion out for the week and you're set!
Feel free to enjoy a serving with some cheese, unsweetened Greek yogurt or a stick of beef jerky if you need a little something extra.
Low-Carb Granola Bars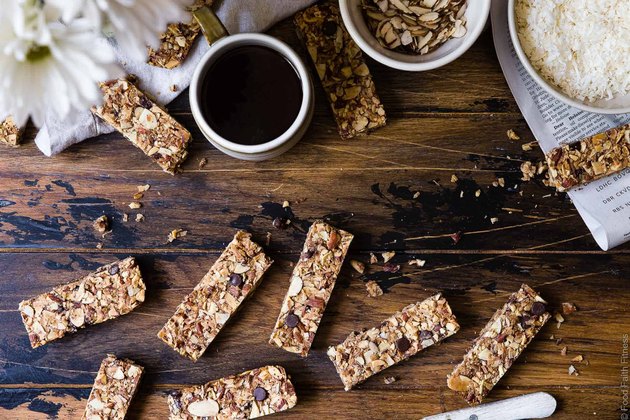 Generally, granola bars are off limits when on the keto diet. However, these granola bars by Food Faith Fitness got a keto makeover — they're sugar-free and low in carbs. With almonds, almond butter, coconut flakes and chocolate chips, they will satisfy a sweet craving without kicking you out of ketosis or leading to a sugar crash. Each bar contains just under 200 calories and is sweetened with monk fruit, a keto-friendly sweetener, to keep blood sugar levels stable.
Bacon-Wrapped Jalapeño Poppers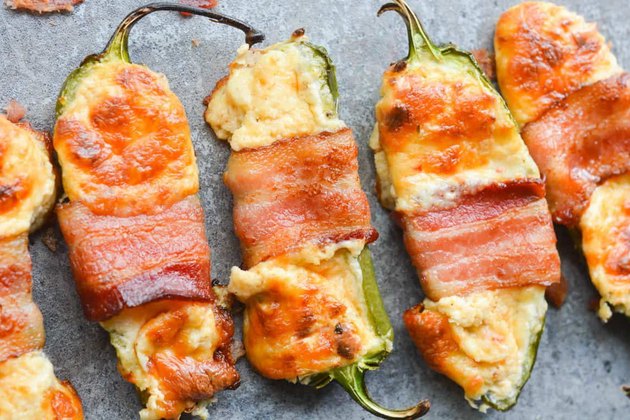 Serve some heat with these spicy, cheesy poppers wrapped in thick bacon from blogger Hey Keto Mama. These crowd-pleasers are perfect for any game night or outdoor barbecue. Each stuffed jalapeño half contains 117 calories, 1 gram of net carbs, 10 grams of fat, and 5 grams of protein.
Hard-Boiled Eggs
Whip up a big batch of hard-boiled eggs on Sunday to keep on hand for the whole week. "Eggs can be a great (and inexpensive!) grab-and-go protein option. Each large egg contains 6 grams of protein and 5 grams of fat," says Bede. What's more, they are an excellent source of choline, a nutrient which has been linked to brain health, as shown in an August 2017 study published in Nutrients.
Berries and Cream
Fruit is tricky on keto, and most options aren't allowed due to their high sugar content. However, berries can be eaten in moderation, as they're low in sugar and high in fiber.
"For a sweet snack, I often recommend berries topped with heavy whipping cream. Pick berries that are lower in carbs like raspberries and blackberries, which are also full of important antioxidants," says Bede. A half-cup of raspberries contains about 14 grams of carbs, 7.5 grams of which are fiber. Since women need 25 grams of fiber per day and men 38 grams, according to the Academy of Nutrition and Dietetics, adding this snack to your weekly rotation can help you meet your fiber needs while on keto.
Turkey Roll-Ups
Ditch the wrap and make turkey your "bread" for a delicious veggie and meat combo. "Low-sodium deli meat can be a low-calorie, high-protein finger food," says White. Be sure to avoid honey-roasted deli meat varieties to keep the carbs at zero grams per serving, she warns. Stuff the roll-ups with low-carb vegetables of your choice and some mayo or mashed avocado for creaminess.
Avocado and Low-Carb Crackers