Muscle cramps can happen to anyone. They are sudden, intense spasms of the muscles, most often of the legs and feet. The cramps can stop you in the middle of a workout, wake you up in the middle of the night or bother you while you're at work. Common causes of muscle cramps include dehydration, muscle strain and vitamin and mineral deficiencies. In addition to keeping well hydrated, you may help prevent muscle cramps by paying attention to your intake of certain vitamins and minerals.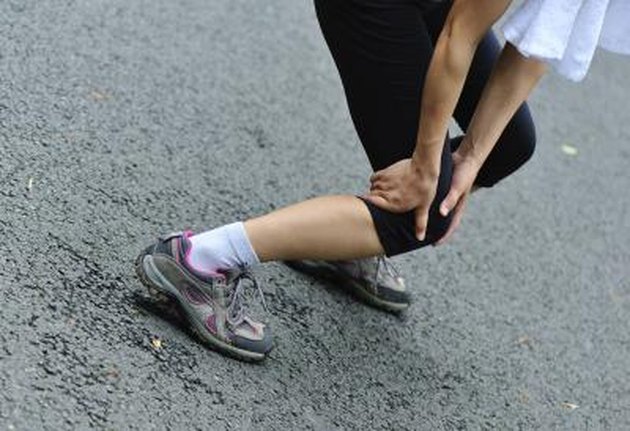 Magnesium
Dehydration is a common cause of leg cramps, due to a resulting electrolyte imbalance. Magnesium is an important electrolyte because it is involved in the movement of calcium and potassium into and out of cells, which affects muscle contractions. A magnesium deficiency may affect the overall electrolyte balance, which may cause leg cramps. Regularly eating foods such as almonds and cashews, spinach, beans and avocado can ensure you're getting enough magnesium.
Calcium
Calcium is an electrolyte involved in nerve function, muscle contraction and relaxation. As muscles contract, if there is not enough calcium to relax the muscle, a cramp may form. Eating foods rich in calcium, such as milk, yogurt and cheese, can ensure you meet your daily requirements.
Potassium
Potassium is an electrolyte responsible for conducting nerve impulses in the body. It plays a key role in muscle contraction and having low potassium, or hypokalemia, can lead to muscle cramps. Eating meat, certain types of fish, dairy products, fruits and vegetables and beans will help keep your potassium levels normal and may prevent muscle cramps. Popular high-potassium produce includes bananas, citrus fruits, tomatoes and potatoes.
Sodium
Sodium works together with the other electrolytes -- potassium, magnesium and calcium -- to generate proper nerve impulses and muscle contractions. When sodium levels are low, due to dehydration or excessive sweating, muscle cramps may occur. While low-sodium diets are promoted for overall good health, if you are experiencing muscle cramps, you may want to add some salt to your meals.
Vitamin B Complex
The B vitamins are involved in many biological processes ranging from production of red blood cells, the generation of energy and proper nerve and muscle function. Recent research suggests B-vitamin deficiency can lead to a number of problems, including leg cramps. In fact, a review published in the journal "Neurology" concluded a Vitamin B complex supplement reduced muscle cramps in 86 percent of patients studied. B vitamins can be found in meat, eggs, dairy products, whole grains, beans and green leafy vegetables.
Vitamin D
Vitamin D is important for bone and muscle health. If you have low blood levels of vitamin D, you may be more likely to experience muscle cramps. Vitamin D is made by the body when skin is exposed to sunlight and is also found in some foods. Dietary sources of vitamin D include fortified milk and some types of fish. However, even with proper diet and time in the sun, you can still have a deficiency. A physician can check your vitamin D levels to determine if a supplement is necessary.