Magnesium oxide is a common salt formulation of the mineral magnesium. Your body needs magnesium for numerous vital biological functions, including maintaining a steady heartbeat and proper nervous system function. Most people obtain enough magnesium from their diet, but if you think you need extra magnesium, you should ask your doctor before taking magnesium oxide supplements.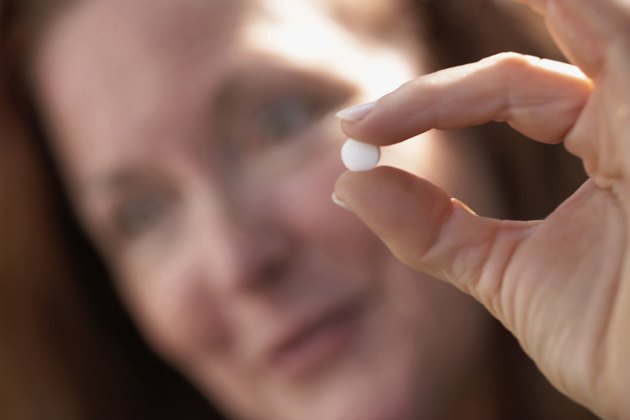 Maximum Dose
If your doctor recommends taking magnesium oxide, closely follow the guidelines concerning dosage, because taking too much magnesium can cause severe side effects. The Food and Nutrition Board of the Institute of Medicine has set a tolerable upper intake level, abbreviated UL, for magnesium to indicate the amount that can safely be taken each day without increasing the risk of side effects. For adults, the UL for magnesium is 350 mg per day. For children ages 4 to 8 years old, the UL decreases to 110 mg per day, and the UL for children 1 to 3 years old is 65 mg per day.
Larger Doses
To treat certain health conditions, your doctor may recommend taking doses that exceed the UL. You should only take these larger doses if you are specifically told to do so by a doctor. For example, doses up to 400 mg per day have been used to treated diabetes. Certain vascular diseases, such as coronary artery disease, have been treated by even larger doses, up to 1,200 mg per day, according to the Linus Pauling Institute at Oregon State University.
Kidney Disease
If you have a kidney disease that impairs the ability of your kidneys to filter your blood, you may experience side effects from magnesium at doses lower than the UL. Your kidneys play a key role in filtering magnesium out of your blood. If your kidneys are not functioning properly, the levels of magnesium in your blood can rise to dangerous levels if you are taking magnesium supplements.
Side Effects
A common side effect of excess magnesium oxide is diarrhea, because magnesium salts have a strong laxative effect. Severe diarrhea may be accompanied by abdominal cramping and pain. In severe cases, excess magnesium can cause dangerously low blood pressure and an irregular heartbeat. In rare situations, an allergic reaction to magnesium may occur. Symptoms of an allergic reaction include a sudden appearance of a rash or hives, severe itching, lightheadedness, dizziness, severe weakness, nausea and vomiting. If you experience the symptoms of an allergic reaction, you should contact emergency medical services immediately.