The essential mineral magnesium plays numerous roles in your health. Supplementing with magnesium helps compensate for not getting enough magnesium in your diet, potentially staving off a deficiency. Liquid magnesium can be easier to swallow than magnesium tablets, according to Consumer Reports, and boosting your magnesium levels offers several benefits.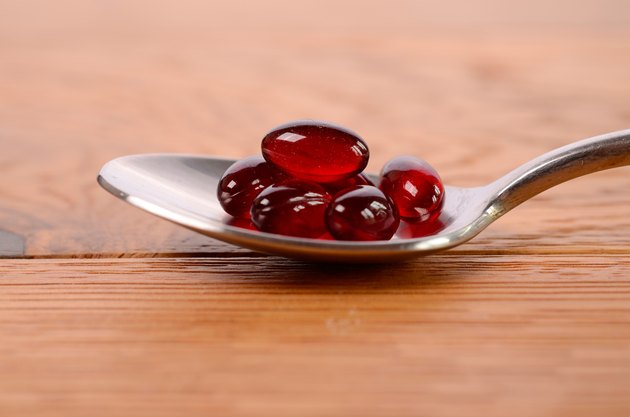 Functions of Magnesium
Maintaining healthy magnesium levels -- either through food or magnesium supplements -- proves essential for good health because magnesium has several roles in your body. It helps you metabolize nutrients, including fats and carbs, so your body can convert them to energy. It's also used to make DNA, helps your cells communicate, helps regulate the release of parathyroid hormone and controls ion transport -- a process essential for heart, muscle and nerve function. Your cells also use magnesium to make glutathione, a potent antioxidant.
Possible Benefits for Bone Health
Maintaining healthy magnesium levels might promote bone health. Your bones contain a mineral complex called hydroxyapatite, which makes them hard and resistant to damage. Magnesium, along with calcium and phosphate, makes up a component of hydroxyapatite. Low levels of magnesium in your bones change hydroxyapatite's structure, making each crystal larger and more brittle. Taking magnesium supplements might improve bone mineral density, a key factor for fighting osteoporosis, but more research is needed to know exactly how well it works. Magnesium supplements might only prevent osteoporosis if you're magnesium-deficient, notes the Linus Pauling Institute.
Magnesium for Depression
Magnesium supplements -- including liquid magnesium -- might offer potential benefits for people with depression. A review paper, published in "Medical Hypotheses" in 2010, explains that not taking in enough magnesium from your diet can cause or worsen depression. Magnesium in your brain affects serotonin -- a "feel-good" chemical often found in low levels in depression patients -- and a lack of magnesium can lower serotonin levels. Both animal and human studies have found that taking magnesium can relieve depression, including cases that are resistant to other treatments, explains the review.
Other Considerations
Unless you have difficulty swallowing vitamin tablets, there's no proven reason to choose liquid supplements over solid ones, according to Consumer Reports. Consult your doctor to choose the best type of magnesium supplement for you. No matter what type of magnesium you take, stick to the dosage recommended by your doctor. Too much magnesium -- more than 350 milligrams of magnesium supplements per day -- can cause diarrhea as well as more serious effects if you have an underlying kidney disorder. If you're taking liquid magnesium, you'll need to measure your doses carefully, since you won't have premeasured doses, as is the case with tablets.