Many people suffer from bloating, which is a condition causing the abdomen to feel full and tight and your stomach to puff out. Coffee can overexcite the digestive tract and may stimulate spasms in the bowel that cause bloating, says Dr. Roger Gebhard, M.D., gastroenterologist and professor of medicine at the University of Minnesota, Minneapolis. Coffee can also cause or aggravate bloating if you have certain medical conditions or allergies.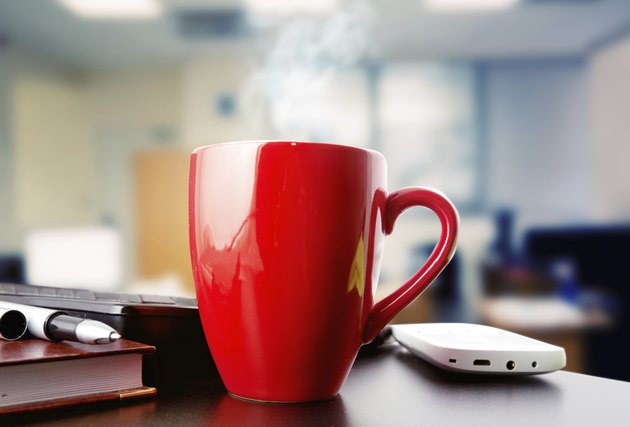 Medical Conditions
Drinking coffee can worsen symptoms of bloating caused by many medical problems such as peptic ulcers, gastritis and irritable bowel syndrome. The University of Maryland Medical Center website lists drinking coffee, including decaffeinated, as a risk factor for developing peptic ulcers, which are open sores on the lining of the stomach, esophagus or intestine that often cause abdominal bloating. UMMC also cites coffee and acidic beverages as a cause of gastritis, an inflammation of the stomach lining that can result in bloating, and recommend avoiding coffee if you have the condition. Irritable Bowel Syndrome is a condition that often causes a swollen or bloated abdomen. The National Digestive Diseases Information Clearing House warns that coffee and other caffeinated beverages may cause or worsen symptoms of IBS.
Lactose Intolerance
It may not be the coffee but what you put in it that causes your stomach to bloat. If you are lactose-intolerant, even a small amount of milk in your morning beverage could cause severe gastrointestinal discomfort including bloating, flatulence and diarrhea. A report from the Dairy Council Digest in 2008 estimates 25 percent of American adults and 75 percent of the world's population has a limited ability to digest lactose, the naturally occurring carbohydrate in cow's milk.
Premenstrual Syndrome
Women who suffer from premenstrual syndrome, or PMS, may experience bloating and weight gain. About 75 percent of women have some symptoms of PMS, which often interferes with their daily activities. UMMC advises avoiding coffee and other caffeine stimulants to reduce bloating, pain and other symptoms associated with premenstrual syndrome.
Diarrhea
Illness, infection, virus, allergy, bacteria or certain medications can cause diarrhea. One of the major symptoms of diarrhea is bloating. Coffee can worsen these symptoms, according to Medical News Today. Additionally, excessive coffee consumption may cause persistent or acute diarrhea and severe bloating.