Losing weight is primarily a matter of expending more calories than you consume. You could do it by diet alone or by exercising to burn all the calories, but the recommended way to lose weight is by combing a healthy low-fat, low-calorie diet with exercise. This helps you learn habits to keep healthy and keep the weight off long after your initial weight loss.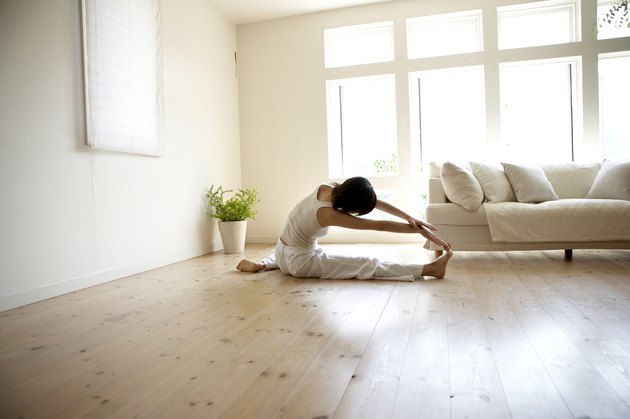 Exercise
The recommended amount of exercise, according to the American College of Sports Medicine, is 60 to 90 minutes of moderately-intense exercise five to six days a week to lose weight. While technically you could exercise for three hours a day and lose weight, this is very extreme and can easily lead to burnout. According to the Cleveland Clinic, studies have shown that people who choose extreme exercise regimens have a tendency to burn out very quickly and, subsequently, give up exercise altogether. This can eventually lead to weight gain if your caloric intake is not adjusted.
Calories
No weight-loss program is without the basic premise that you need to burn more calories than you consume to lose weight. If you were to exercise three hours a day, your caloric needs would be equally as high because you would need a certain amount of calories just to keep up the rigorous regimen. Technically, you could create a bigger caloric deficit if you ate fewer calories, but it would be doubtful you would have the energy to exercise for three hours. The difference in calories would be fairly close to the same as if you exercised for an hour and ate fewer calories. In addition, the amount of fatigue would be considerably less if you exercise for the recommended 60 to 90 minutes, depending on your intensity level.
Recommendations
Lose no more than 1 to 2 lbs. per week combining diet with exercise. It takes an excess expenditure of 3,500 calories to burn 1 lb. of fat. If you start by dropping 500 calories a day from your diet, assuming you are expending as many calories are you are burning, you can lose 1 lb. in a week. The rest of the calories to lose the second pound should come from exercise. Spreading exercise out over several days avoids overexertion and damage to the body.
Other Risks
Losing weight quickly is tempting, either by exercising excessively or by going on a crash diet. Crash diets are as harmful as extreme exercise programs. Very-low-calorie diets often lead to malnutrition and can lead to binge eating to overcompensate for the loss in nutrients. Many people gain weight once they start eating regularly again. For safety, MedlinePlus.com recommends men stay above 1,500 calories a day and women go no lower than 1,200 calories a day.
Considerations
Consult a doctor before beginning any exercise or weight-loss regimen. If you are obese, or need to jump start your diet, a doctor may prescribe a very-low-calorie diet temporarily. Keep track of your calories in a journal so you can be aware of how many you are expending and consuming. This can help you make better choices down the road as you become more aware of how many calories you can expend with exercise and how many you consume with certain foods.