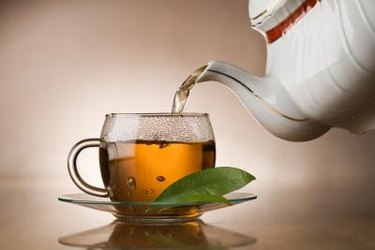 Green tea is revered by many people for its many reputed health benefits. While considered one of the healthier teas you can drink, green tea is not always the best choice when it comes to breastfeeding. Green tea is safe in small quantities, but there are better ways to stay hydrated when breastfeeding.
Fluids and Breastfeeding
While water is the best source of hydration when you are breastfeeding, sometimes you crave a little variety. Packed with antioxidants, green tea might seem like a healthy alternative. Green tea can be enjoyed hot or iced, and has many reputed health benefits, such as cancer protection, control of cholesterol levels and digestion regulation. However, in addition to caffeine, some green teas contain additives that might not be safe for women who are nursing.
Breastfeeding and Caffeine
Green tea contains caffeine. Even so-called decaffeinated versions still contain traces of caffeine. It generally has less caffeine than you would find in an average cup of coffee or black tea, however. According to Kelly Bonyata, a lactation consultant and founder of the popular breastfeeding resource Kellymom.com, an 8 oz. cup of green tea contains anywhere from 30 to 48 mg of caffeine. While this is far less than the upper limits of caffeine recommended for breastfeeding moms, any amount of caffeine in the breast milk can affect a baby. Nemours suggests limiting caffeine while breastfeeding simply because it can lead to dehydration and might affect your baby's wake and sleep patterns.
Bottled Green Tea
Bottled green tea, such as what you might find in a convenience store, contains roughly the same amount of caffeine as a cup of the hot version; however, it also ccan ontain other ingredients besides green tea-infused water, including added sugar and herbal extracts. Before opting for a manufactured green tea beverage, read the label. Look not only at its sugar content, but also scan the ingredient list for added herbs or extracts that might be unsafe, such as ginko biloba or ginseng. While both are natural remedies commonly used in manufactured beverages, neither is considered safe for breastfeeding women.
Bottom Line
Straight green tea is safe for breastfeeding mothers, though it is best consumed in moderation. You would have to drink several cups a day to reach the upper limits of allowable caffeine, but even a small amount of caffeine can affect your baby. Bonyata recommends watching your baby's behavior to determine whether you have had too much caffeine before nursing: If your baby is having trouble falling asleep or staying asleep and you have been drinking tea, it might be best to scale back. Nemours suggests sticking to one or two cups of tea daily, if you cannot give it up.