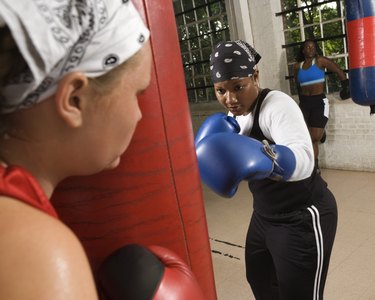 Amateur boxing is divided into four weight classes -- featherweight, lightweight, middleweight and heavyweight. With the exception of heavyweight which has no limit, each class has a weight limit range. Determine which class you currently fit in, or wish to fit in, then move forward with training to prepare for the boxing event.
Step 1
Find a boxing gym. The difference between a regular gym and a boxing gym is that a boxing gym will provide the staff, coaches, sparring partners and training resources you need to become a competent amateur boxer. Regular gyms may provide boxing-like classes, but the general participants in these classes are gym rats and fitness enthusiasts, not those training for a fight. In addition, boxing-like classes such as cardio kickboxing may not involve actual contact with a partner or boxing training devices, such as a punching bag.
Step 2
Find a coach. A boxing coach will teach you proper hitting techniques, hold the mitts while you spar and watch you hit the punching bag and offer advice on how to improve your form. He may also provide effective workout and nutrition advice. Speak with the owner of the boxing gym to see if he knows of any reputable boxing coaches.
Step 3
Get your amateur boxing license. You will first need to pass a physical. Speak with your boxing coach or the owners of the boxing gym to see if they know any physicians who specifically conduct amateur boxing physicals. Once you pass the physical, obtain a signed copy of the physical form, then download and fill out the USA Boxing application. If you are under 18, the application must be signed by a parent or guardian. Mail your completed amateur boxing application, signed physical form, two passport-sized photos, the original or a notarized copy of your birth certificate and registration fee to your local boxing committee.
Step 4
Sign up for your first event. Once you have adequately trained and prepared yourself for boxing, your coach will pronounce you ready to attend and fight in an amateur boxing event. Your weight determines the class in which you will start your amateur boxing career. Amateur boxing events are both local and national, and many culminate in championship events.