Convection ovens work like regular ovens, except convection models have large fans that constantly circulate hot air through the ovens. Since hot air is constantly hitting each part of your food as you cook in a convection oven, your food cooks faster and more evenly that it would in a traditional oven. Convection ovens don't have hot and cold spots the way typical ovens do. Cooking your food in a convection oven typically speeds up the cooking time by about 25 percent. Cook a juicy steak in no time using your convection oven's broiler.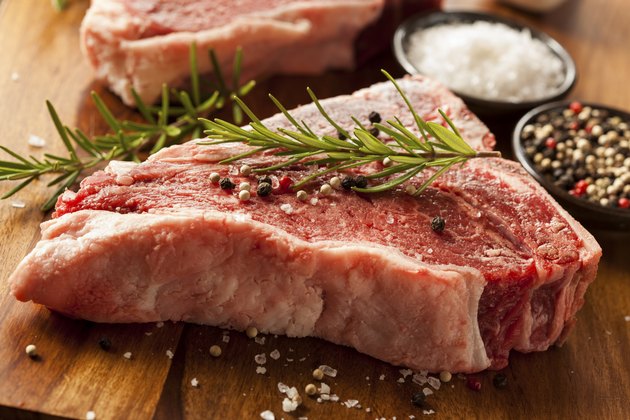 Step 1
Rub your steak with your seasoning spice mix -- or just salt and pepper -- or place it in your liquid marinade. Let the meat sit in its rub or marinate it while your oven preheats.
Step 2
Place the top rack in your convection oven in the second-from-the-top position.
Step 3
Preheat your oven to the "Convection Broil" setting at 500 Fahrenheit.
Step 4
Place your steaks on the two-piece broiler pan that came with your convection oven.
Step 5
Slide the pan onto the rack you just positioned and close the oven door.
Step 6
Convection broil your steak for five minutes, then flip the steak using a set of tongs, and broil on the second side for another three minutes.
Step 7
Check your steak for doneness using a meat thermometer. The U.S. Department of Agriculture recommends a temperature of 160 degrees for medium steaks.
Step 8
Turn off your oven and let your steak rest at room temperature for five minutes before serving. Your steak will rise in temperature about 5 degrees during this rest.
Things You'll Need
Spice rub, salt and pepper, or liquid marinade

2-part broiler pan that came with the oven

Tongs

Meat thermometer
Tips
If you have a steak recipe that uses a traditional oven, convert the recipe for your convection oven by reducing the temperature by 25 degrees Fahrenheit.
Warning
Before buying a convection oven, make sure what you're getting is a true convection oven. Real convection ovens have three separate heating elements, not two.