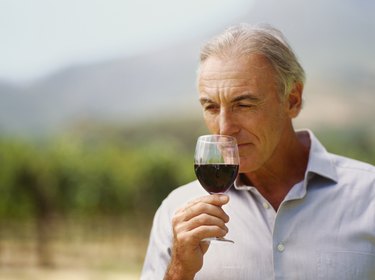 Wine is a source of polyphenols -- abundant antioxidants that help prevent an array of health problems, including cancer, cardiovascular disease, diabetes and neurodegenerative diseases. Because many factors affect the polyphenol content in different wines, such as the ripeness of the grape, processing and environmental factors, the polyphenol content of wines widely varies. Some nutrition research, however, points to which wines have the highest polyphenol levels.
Don't Skip the Skin
Although both red and white wine contain polyphenols, red wine contains higher levels of polyphenols because it is made using the entire grape -- skin and seeds included -- while white wine is made using only the free-running grape juice. The process by which red wine is made allows more polyphenols to diffuse into the wine, giving red wine 10 times the polyphenol content of white wine, according to a review study published in "American Journal of Clinical Nutrition" in 2004. So choose a darker red wine for higher polyphenol content.
Go Euro
A polyphenol called procyanidin provides the most cardiovascular benefit and is highest in the Tannat grape, according to a study published in the journal "Nature" in 2006. These researchers found that Madiran wine from southwestern France has the highest procyanidin content. And they concluded that other red wines from southwestern France and from Sardinia, Italy, had very high amounts of procyanidin, though not as much as Madiran wine. There are many different brands of Madiran wines that will read "Madiran" on the label, but if you cannot find them on the shelves, you can order wine from Madiran wineries. Try Madiran red wines from Château d'Aydie, Domaine Berthoumieu, Domaine Capmartin and Château Montus. You can purchase Sardinia reds from Sardinia wineries such as Cantina di Santadi, Tenute Dettori and Mancini.
Red for Resveratrol
A polyphenol called resveratrol may reduce your risk of cancer and cardiovascular disease. Leroy Creasy, emeritus professor in the Department of Horticulture at Cornell University, studied more than 100 red wine varieties and concluded that pinot noir wines from New York had the highest average resveratrol content. Creasy also found that New York red wines had a higher average resveratrol content overall than wines from other regions he studied, which included other states and countries. You can purchase New York pinot noir, Cabernet Sauvignon or merlots for an average polyphenol content that is higher than other wines, although the actual resverotrol content may vary by year. Try reds from McCall Wines, which won the best winery at the 2013 New York Wine and Food Classic. McCall Wines Pinot Noir Reserve, Corchang Estate, won best pinot noir. Wölffer Estate Vineyard 2010 Cassango Cabernet Sauvignon won best Cabernet Sauvignon, while the best merlot award went to Martha Clara Vineyards 2010 Merlot.
Quality Vs. Quantity
Just because red wine contains higher polyphenol content does not mean you should disregard white wine for health benefits. A study published in "Current Medical Research and Opinion" in 1999 showed that there was no significant difference between the antioxidant capacity of red and white wine, while a study published in "Drugs Under Experimental and Clinical Research" in 1997 showed that the polyphenols in white wine, although in lower amounts, may actually have more antioxidant capacity in comparison to red wine.