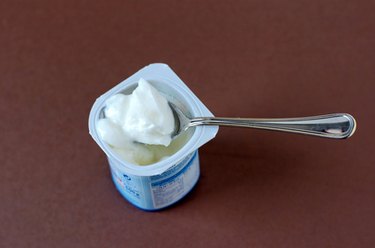 Eating soy foods, such as soy yogurt, provides many health benefits. Soy yogurt is made from soybeans, a legume that contains a complete protein of all essential amino acids; healthy fats' vitamins; minerals, particularly calcium; and antioxidants, such as isoflavones. People eat soy yogurt for its nutritional value and as a healthy, cholesterol-free alternative to yogurt made from dairy products. Consult your doctor about the benefits of eating soy yogurt to improve your health.
Heart Disease
Eating soy foods, including soy yogurt, may improve your cardiovascular health. Soy contains polyunsaturated fats, healthy fats that may reduce your risk of heart disease. Heart disease is the leading cause of death in the United States. Consumption of soy protein can lower blood cholesterol levels and reduce the risk of cardiovascular disease in adults with Type 2 diabetes, according to research by scientists at the University of Guelph in Ontario, Canada that was published in the "Journal of Nutrition" in 2009.
Diabetes
People with diabetes need to manage high blood sugar. Consuming low glycemic foods, such as soy yogurt, helps you to control your blood sugar levels because you slowly absorb sugar from these foods into your blood. Research by scientists at Newcastle University in Tyne, England published in "Diabetes Care" in 2010 found that eating soy yogurt prior to breakfast results in almost 40 percent reduction of blood sugar levels following breakfast in people with Type 2 diabetes.
Osteoporosis
Osteoporosis is characterized by bone loss and increased risk of fractures. Eating foods rich in calcium, such as soy yogurt, may reduce your risk of osteoporosis. Soy foods may be effective in reducing the risk of osteoporosis in postmenopausal women, according to research by scientists at the University of Bari in Italy that was published in "Maturitas" in 2002.
Cancer
Eating soy yogurt with fruit may help you reduce the risk of cancer. Isoflavones in soy have estrogen-like properties that protect you against cancer. Eating soy foods along with fruits and vegetables may be associated with a reduced risk of breast cancer, according to research by scientists at Hanyang University in Seoul, Korea that was published in the "International Journal for Vitamin and Nutrition Research" in 2007. Choose a different fruit topping for your soy yogurt each day, such as blueberry, strawberry, peach, cherry, raspberry and banana, to maximize your intake of various types of antioxidants and other nutrients.