You can count on CrossFit to come up with workouts that will push your body to the brink. Lower-body workouts are already notoriously difficult, but adding the intensity of CrossFit makes them even harder. While most CrossFit workouts incorporate both lower- and upper-body movements, some focus solely on the lower body.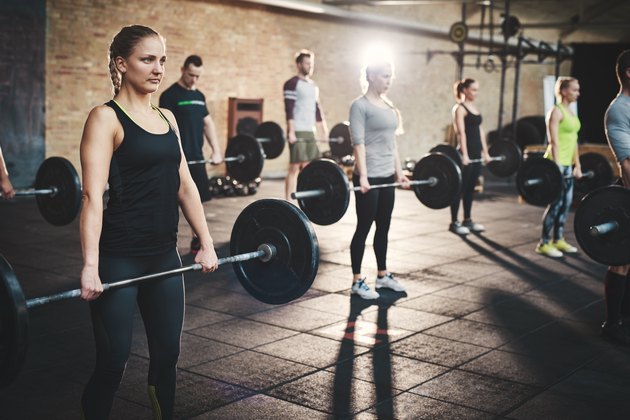 A Note About Speed
It helps to have a timer when completing a CrossFit workout, because you want to record how long it takes you to complete it. There is very little down time in a CrossFit workout, since they're done in a circuit-style. That means you'll be quickly bouncing from exercise to exercise, completing each as quickly as possible.
Time your entire workout, and the next time you attempt it, chip away at the time. This way you're competing with yourself, giving you extra motivation to push harder.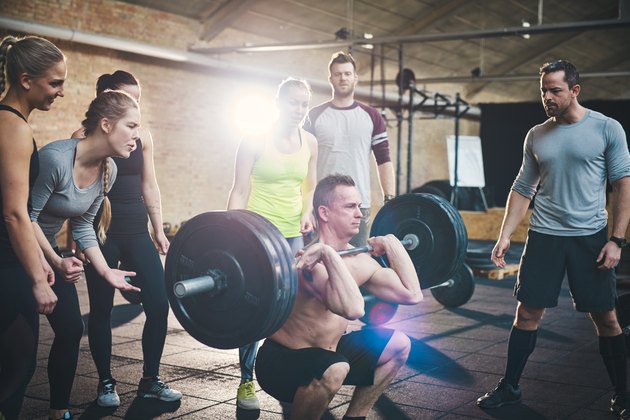 1. Sally Squat Finisher
This squat workout is only a little over three minutes long, but it's still one of the most challenging lower body workouts in CrossFit. Squats work your quadriceps, hamstrings and glutes, making them an ideal choice if you want to work as many leg muscles as possible.
Forget about using extra weight the first time you do this workout. If you're in great shape, you can try it with a barbell on your back, but don't use any more than 135 pounds. If you try it without weight and decide that you want more of a challenge, do it with a barbell across your back the next time.
HOW TO DO IT: You'll need access to headphones or a speaker. The concept is a little out of the ordinary, because you'll use a song to guide you through the workout. "Flower" by electronic artist Moby is going to give you the squat commands.
Set up at the top of your squat position and wait for the words "green Sally down." That's when you descend to the bottom of the squat position. Wait there until the song says "green Sally up." That's when you stand all the way up.
Continue this way for the entire duration of the song. You'll end up doing about 30 squats. Save it for the end of your workout, because your legs won't be very strong after this.
2. Walking Lunge Workout
Use this circuit to burn out your legs. It's designed to be used after sets of heavy push-presses, but you can do it anytime.
HOW TO DO IT: Perform four rounds of these exercises, taking a break between each round. Record the amount of time it takes you to complete the entire workout.
Walking Lunges: Start with a barbell across your back. Use either 10-pound or 25-pound plates on either side of the bar. Lunge forward and drop your back knee down close to the ground. Step your back foot forward and then lunge forward with that foot. Maintain a tall posture throughout the exercise. Do 10 reps total, five per leg.

Bar-Facing Burpees: Take the barbell off your back from walking lunges and put it on the ground. Facing the barbell, do a burpee by putting your hands on the ground, kicking your legs back, hopping them back in and then standing up straight. Hop over the bar, turn around to face it, and do another burpee. Keep going until you've done 10 reps total.

3. Leg Day
The unique aspect of CrossFit is that it blends many different fitness styles into one. This workout has cardio and bodyweight training and uses high repetitions.
You're going to do three rounds of this circuit as fast as possible before you stop. There are so many reps that you don't need to use weight.
Walking Lunges: Lunge forward, alternating your legs each rep, for 100 meters.
800-Meter Run: Run 800 meters as fast as possible, either on a track or on the road. When you finish, jump right into the next exercise.
Bodyweight Squats: Do 100 bodyweight squats to complete the circuit.