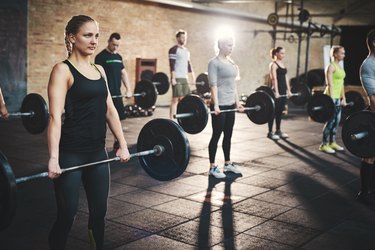 You can count on CrossFit to come up with workouts that will push your body to the brink. While most CrossFit workouts incorporate both lower- and upper-body movements, some focus solely on the lower body — to make a killer leg day even harder.
Record how long it takes you to complete the three CrossFit leg workouts below. (CrossFit statistics show most workouts of the day or WODs take fewer than 15 minutes to complete, according to ​​BoxLife Magazine​​, a popular CrossFit publication.) That way, the next time you attempt it, you can try to chip away at your time. You're competing with yourself, giving you extra motivation to push through.
This squat workout is only a little over three minutes long, but it's still one of the most challenging lower-body workouts in CrossFit. Squats work your quads, hamstrings and glutes, making them an ideal choice if you want to work as many leg muscles as possible.
If you're new to CrossFit, don't worry about using extra weight the first time you do this workout. More experienced CrossFitters can try it with a barbell, but don't use any more than 135 pounds.
You'll need access to headphones or a speaker for this workout. The concept is a little out of the ordinary: You'll use the song "Flower" by Moby to give you the squat commands. Save it for the end of your workout, because your legs won't be up for much more after this.
Set up at the top of your squat position and wait for the words "green Sally down." That's when you descend to the bottom of the squat position.
Wait there until the song says "green Sally up." That's when you stand all the way up.
Continue this way for the entire duration of the song. You'll end up doing about 30 squats.
This circuit is designed to be used after sets of heavy push-presses. You'll perform four rounds, taking a short break between each round.
Start with a barbell across your back. Use either 10-pound or 25-pound plates on either side of the bar.
Lunge forward and drop your back knee down close to the ground.
Step your back foot forward and then lunge forward with that foot.
Maintain a tall posture throughout the exercise.
Do 10 reps total, five per leg.
​Move 2: Bar-Facing Burpees​
Take the barbell off your back from walking lunges and put it on the ground.
Facing the barbell, do a burpee by putting your hands on the ground, kicking your legs back, hopping them back in and then standing up straight.
Hop over the bar, turn around to face it and do another burpee.
Keep going until you've done 10 reps total.
CrossFit is known for blending many different fitness styles into one. For example, you'll get cardio and body-weight training in this workout. Do three rounds of this circuit as fast as possible before you stop.
Lunge forward, alternating your legs each rep, until you've walked 100 meters.
Run 800 meters (about half a mile) as fast as possible, either on a track or on the road.
Do 100 body-weight squats to complete the circuit.