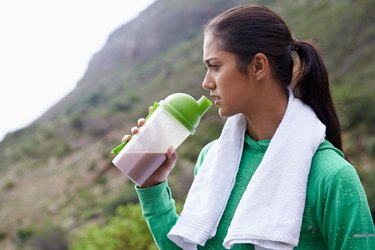 When you push through a tough workout, your muscles are constantly challenged, and their fibers begin to break down and sustain damage. The process of repairing and rebuilding those fibers, called muscle protein synthesis, uses amino acids from protein to encourage healthy recovery and muscular growth. Although any nutritious sources of protein will help the process along, there are a few distinct advantages to drinking protein shakes after exercise.
Tip
Protein shakes after a workout are a convenient source or the nutrition your body needs after exercise. It restores energy and supplies the protein to rebuild muscle and improve strength.
Compact Nutrition
Protein powder is an isolated nutrient source, so it provides a lot of nutrition for relatively few calories. After exercise, your body needs that nutrition to recover, but it doesn't need enough calories to negate all the effort you put forth during your workout. For the best results, find a protein shake that contains some carbs, or blend your shake with a carb-rich snack like a banana. According to the National Sports and Conditioning Association, when you eat carbs and protein in a 4:1 ratio within 30 minutes of exercise, you'll recover faster and actually gain more strength.
Muscle Growth
Most protein powders on the market feature whey protein concentrate or whey protein isolate as primary ingredients. Whey is a "fast-acting" protein, so most people are able to digest it easily. That makes it a prime choice for post-workout protein shakes as well. Although whey doesn't affect all athletes in the same way, registered dietitian Debra Wein writes that whey does have the ability to stimulate gains in muscle size in some people, when combined with proper nutrition and regular strength training.
Better Health
After assessing a wide collection of research related to protein and exercise, the International Society of Sports Nutrition published an article in 2007 stating that having protein shortly after a workout is associated with fewer medical visits, decreased muscular soreness and better immune response to infections. Subjects who received a placebo after their workouts got sick more often and logged more total doctors' visits.
The Catches
Supplementing a healthy diet and regular exercise with protein shakes has proven advantages, but it isn't the best option for everyone. The International Society of Sports Nutrition recommends choosing whole and natural foods over supplements like protein powders and shakes whenever possible, as whole foods provide greater overall nutrition and contain protective substances that can't be reproduced in supplements. Additionally, protein supplements aren't associated as strongly with muscle and strength gains in people who typically perform endurance exercise rather than resistance exercise. Before you add shakes to your eating and fitness plan, talk with your doctor.