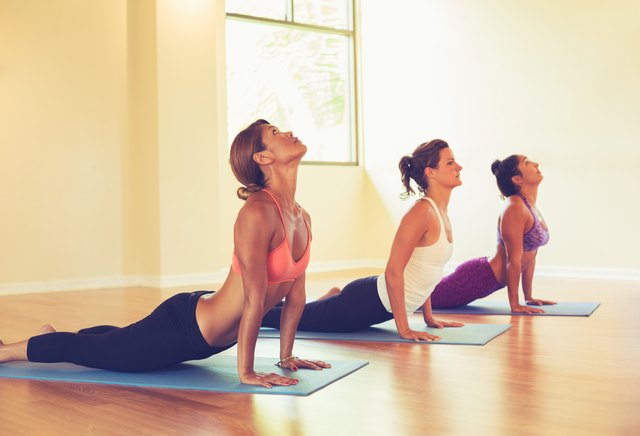 While lying on the sofa watching movies may sound ideal during the first day of your period, the truth is that getting your body moving can greatly help to make you feel better. Exercise can help with the symptoms that women often experience at the start of their menstrual cycle, including bloating, fatigue, depression and irritability. It may be more difficult to get yourself in the gym frame of mind, but by the end of your workout, you'll be glad you put in the effort.
Step 1
Continue your normal workout schedule on the first day and throughout your menstrual cycle. There is no physiological reason why you shouldn't work out, so base the decision whether to go to the gym on how you personally feel on that particular day.
Step 2
Participate in cardiovascular exercise if you are experiencing cramps, bloating or irritability. The aerobic workout can help to relieve your symptoms while also lift your mood. Run on the treadmill to release endorphins or, if feeling sluggish, try a more supportive exercise machine, such as the elliptical trainer or stationary bike.
Step 3
Swim if you're feeling particularly heavy. While a swimsuit isn't every girl's favorite thing to wear during her menstrual cycle, the water lifts you up, making your body feel lighter while also taking the pressure off your pelvis and back.
Step 4
Focus on your form during the first day of your period. Feeling bloated and fatigued can throw your posture and form off while engaging in activities like strength training or running, which can lead to injuries. Slow down and think quality first, quantity second.
Step 5
Drink at least eight to 10 glasses of water during the first day of your period and throughout your menstrual cycle, as dehydration can increase the bloating in your body. Exercise increases your risk of dehydration; add additional glasses of water if you find yourself sweating excessively during your workout.
Step 6
Take a gentle yoga class if you are experiencing painful cramps, nausea or fatigue. The stretching and gentle movements can help to ease your symptoms without forcing you to exert too much energy.
Things You'll Need
Treadmill

Stationary bike

Elliptical trainer