Watermelon is a favorite fruit to many, but if you have diabetes, you may wonder if its sweetness might spell trouble for your blood sugars. A fruit from the gourd family, watermelon packs nutritional value and is an excellent source of lycopene -- a plant chemical linked to a reduced risk of cardiovascular disease and cancer.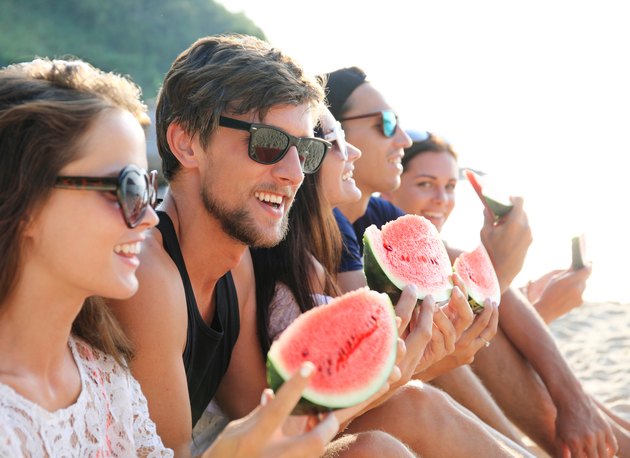 But since watermelon is a source of carbohydrates and has a high glycemic index -- a measure of a food's blood sugar response -- it's often shunned in favor of other fruit choices. However, the American Diabetes Association (ADA) encourages the inclusion of fruit, as long as the food's carbohydrates are factored into the meal plan.
Watermelon Nutrition
This large fruit comes from the gourd family, known for their hard green rinds and red, sweet and watery pulp. One cup of cubed watermelon contains less than 50 calories and is a good source of vitamin A, vitamin C and potassium. Red watermelon also packs a wallop when it comes to the antioxidant lycopene, which may help reduce the risk of heart disease and certain cancers. If you have diabetes, the quality of your diet matters, and eating more fruits and vegetables is one way to reduce the risk of other health conditions.
Watermelon Research
Components in watermelon may prove to be of value in helping diabetes and improving blood pressure -- a condition found in 2 of 3 people with diabetes, according to the ADA. A small study published in the January 2011 "American Journal of Hypertension" demonstrated that watermelon extract reduced blood pressure readings in people with prehypertension. A study published in the February 2011 issue of "Food Science and Technology," demonstrated that mice fed extract from watermelon rind, but not extract from the pulp, had lower blood sugar levels after diabetes was induced. In addition, a study published in the July 2008 "Life Sciences" outlined that long-term treatment with lycopene lessened diabetes-related cognitive decline in rats. These study results hold promise that plant chemicals in watermelon may have helpful benefits, however larger-scale human trials are needed to clarify this fruit's value in diabetes management.
Watermelon and Blood Sugars
While watermelon has health-promoting properties, the carbohydrate content of watermelon and its anticipated effect on blood sugars can be a more immediate concern. According to ADA, blood sugars can be better managed when a meal plan spreads small to moderate amounts of carbohydrate-containing foods throughout the day. Carbohydrate counting is a meal planning approach that can help achieve these goals. Watermelon can easily fit into a diabetes meal plan by factoring in its carbohydrate count, since 1 ¼ cup diced watermelon contains about 15 grams of carbohydrates -- about the same as a small fresh fruit, ½ banana or 1 cup of berries.
Watermelon's Glycemic Index
There are a few reasons why watermelon gets blamed for high blood sugars. First, watermelon is a common picnic and potluck item, and it may be hard to eat this summer favorite in moderate portions. Second, watermelon has a high glycemic index (GI), and high GI foods have more of a blood sugar impact, or cause a faster blood sugar rise, compared to low GI foods. However, the GI is a complex system with many variables, and GI does not factor in the carbohydrate quantity. Enter the glycemic load (GL), presumed to be a better measure of predictive blood glucose response, as it factors in the amount of carbohydrates. Watermelon has a low GL of 5 -- so as long as portions are correct, this fruit is an acceptable choice in a diabetes meal plan.
Precautions and Next Steps
While watermelon is a nutritious fruit choice for people with diabetes, large quantities can cause blood sugar levels to increase to undesirable levels. If you need help learning how to eat for diabetes, or want to understand your carbohydrate targets, ask for a referral to a dietitian who specializes in diabetes. Also, if your blood sugar levels are above target, see your doctor and discuss next steps with your diabetes care team.
Reviewed by: Kay Peck, MPH, RD