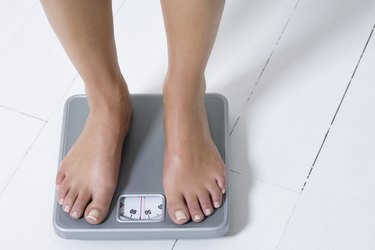 One of the first you want to know about any diet program is how much weight you are likely to lose on the plan. It's important to find a diet plan that offers realistic weight loss instead of unhealthy diets that result mainly in the loss of water weight. The well-known diet program Nutrisystem bases its meal plan on calorie and portion control aimed at providing steady, sustainable weight loss.
Nutrisystem
Nutrisystem provides prepackaged calorie-reduced meals, and has been in business since 1972. On the Nutrisystem diet plan, you choose from a menu of more than 150 different dishes designed by registered dietitians. The company delivers meals monthly and provides a 28-day supply of food. You are expected to purchase low-fat dairy products and six daily servings of fresh fruit and vegetables to supplement the provided meals. There are separate plans for men, women, diabetics and vegetarians. The daily calories of provided meals falls at about 1,200 calories for women and 1,500 calories for men. The program's emphasis on foods with a low glycemic index ensures that participants won't become hungry between meals and binge on extra calories.
Weight Loss Expectations
Because Nutrisystem is designed to encourage healthy weight loss, not to be used as a crash diet, typical participants on the plan lose 1 to 2 lbs. per week. You may lose weight more quickly in the first few weeks of the program, but excessive rapid weight loss is unlikely. You can stay on Nutrisystem for as long as you like, so you can lose as much weight as you need to. The Success Stories section of the Nutrisystem website features participants who lost up to 100 lbs.
Improving Weight Loss on Nutrisystem
One way to increase your weight loss is to include exercise in your efforts. Nutrisystem does not require exercise as part of the program, but does encourage it. The company sells exercise DVDs featuring cardio-walking and strength training. Another way to ensure weight loss success on Nutrisystem is to consume the full six servings of fruits and vegetables per day recommended by the program.
Considerations
One concern with the Nutrisystem plan is that it does not teach you how to prepare and cook your own low-calorie meals. Because of this, once you leave the plan, you may gain weight again. You should consult a doctor before starting any diet or weight-loss plan, including Nutrisystem.