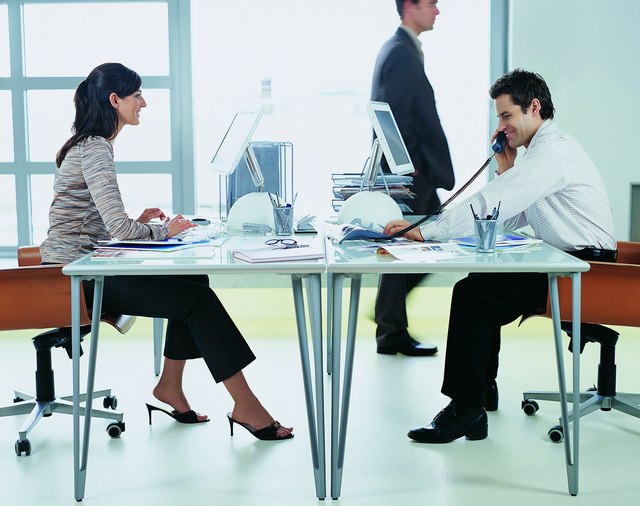 A full day of sitting at a desk can leave you feeling tight and sore, particularly in your leg area. Simple leg exercises you can do at your desk wake up the muscles and keep them active throughout the day. Your legs also benefit from increased flexibility and improved strength. Choose the leg exercises that best fit your work day and space and address the problems you experience as you sit at your desk.
Individual Leg Lifts
Raising the legs promotes circulation and helps strengthen the muscles. Start by sitting up straight in your chair. Hold onto the arms of the chair if you need support. Raise one of your legs so it is straight and pointing away from your body. Count to five, then raise the leg a few more inches to push yourself. Hold that leg position for five more seconds before lowering the leg to the floor. Continue alternating legs until you do 10 repetitions per leg. Increase the length of time you hold your leg in front of you or the number of reps you do to increase the difficulty of this desk exercise.
Knee Raises
A similar option is to raise your knees up toward your chair. Instead of straightening your leg, keep the knees bent. Lift one leg so the knee moves toward your chest. Raise the leg as high as possible and hold the position for a few seconds. Lower the leg slowly and in a controlled manner. Switch to the other leg. This move helps open up your hips while strengthening your thighs and abs.
Squats
If your job allows you to get up from your seat, do squats beside your desk. Try different variations of squats to find the one that feels best to you, or switch up the type of squats you do throughout the day for a different workout. Your office chair serves as an aid, particularly if you are a beginning. Put the chair up against a wall if it has wheels to prevent it from moving. Stand in front of the chair and squat down as if you were going to sit. Just before you reach the chair, stand back up. For a plié squat, start in a wide stance with your toes pointed outward like a ballerina. Squat down and stand back up while you maintain that position. Regardless of the squat type, never allow your knees to extend beyond your toes, as this increases your chance of injury.
Thigh Squeeze
If you want to focus on your thighs, this exercise helps you tone and strengthen the area. Keep a small flexible ball or a hand towel at your desk. Hold the ball between your knees. Squeeze the ball as hard as you can between your knees and hold to the count of five. Release the tension slightly without letting the ball fall out from your knees. Repeat the squeeze 12 to 15 times. This exercise works well at the office because you can do it under your desk without anyone else realizing it.