The leg extension is an isolation exercise that targets your quadriceps, the muscles on the front of your thigh. It is a simple movement, which occurs at only one joint -- your knees. The leg extension strengthens your quadriceps. and if done correctly, is not hard on the knee joint.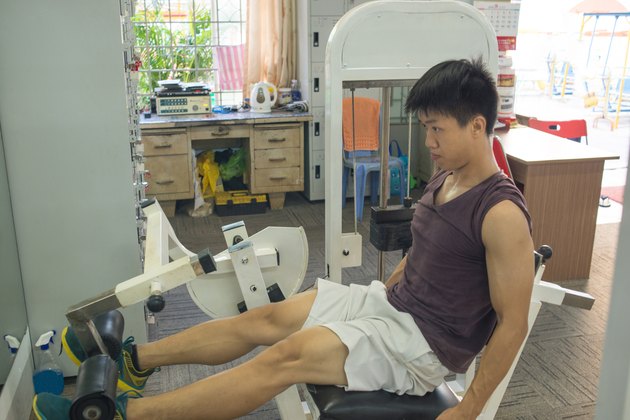 Simplicity
The leg extension, typically performed on a leg-extension machine, is a relatively simple exercise. The movement occurs at only one joint and is a basic, limited motion. Sit on the machine with your knees at a 90-degree angle and your ankles behind the roller pads, which are near the floor. Lift the weight until your legs are almost straight, but always keep a slight bend in your knees to protect the joint from excessive wear and tear. The simplicity of this exercise makes it easy to learn and execute properly, even for beginner lifters.
Focus
Leg extensions are a key exercise in strengthening the patellar ligament and the quadricep attachment for the knee. This exercise focuses on strengthening the quad alone and, therefore, strengthens key attachments for the knee joint at the same time. Other leg exercises, such as squats, step-ups and leg presses, work the quadriceps, but the hamstrings, calves or glute muscles assist the during the movement. If your quadriceps are weak, performing leg extensions allows you to focus on strengthening just that muscle.
Variations
Vary leg-extension exercises to keep your workout fresh. If you don't have access to a leg-extension machine, use resistance bands or ankle weights. At the gym, attach a cuff to your ankle and do cable leg extensions. While seated, perform one-leg or two-leg extensions.
Specificity
The National Strength and Conditioning Association notes that the benefits of an exercise are specific to the movement. If you train on the squat exercise and gradually become stronger, this strength increase does not necessarily transfer to the leg-extension exercise. If you want to be stronger for activities that mimic the leg-extension movement, such as kicking, you must train on the leg-extension exercise, gradually increasing the weight to increase your strength.