Whole hams are a cinch to prepare and perfect for special occasions. Since the ham is smoked, it only needs to be heated before serving. Simply toss the ham in the oven and you're free to prepare any side dishes for your meal. For an exciting burst of flavor, prepare a simple glaze to spread on the ham during the last 30 minutes of baking. A mixture including brown sugar, maple syrup, honey, Dijon mustard or fruit juice is the perfect complement for your elegant feast.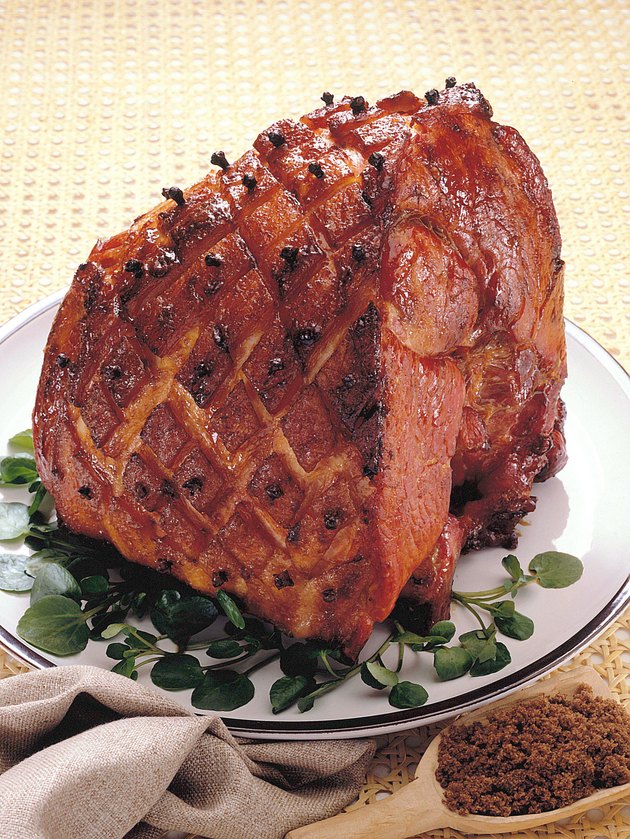 Step 1
Preheat oven to 325 degrees Fahrenheit.
Step 2
Arrange the ham in a shallow roasting pan. Add one cup of water to the bottom of the pan.
Step 3
Cover the pan tightly with a layer of aluminum foil.
Step 4
Bake the ham until the internal temperature reaches 145 degrees Fahrenheit. This will take about 15 to 18 minutes per pound for pre-cooked hams, while hams that must be cooked before eating require about 18 to 20 minutes per pound. Allow the ham to rest for 10 minutes before slicing.
Things You'll Need
Roasting pan

Aluminum foil

Instant-read thermometer