Cancer patients require special nutrition management due to a higher risk of developing nutritional deficiencies and becoming malnourished. Changes in nutritional status may result from the cancer itself, or it may be a side effect of cancer treatment. Cancer alters the body's ability to break down macronutrients into usable forms, leading to loss of muscle and fat. To maintain a healthy weight and lean body mass, you should consume a healthy and well-balanced diet. It is important to choose high-calorie, high-protein foods whenever possible to meet your increased needs.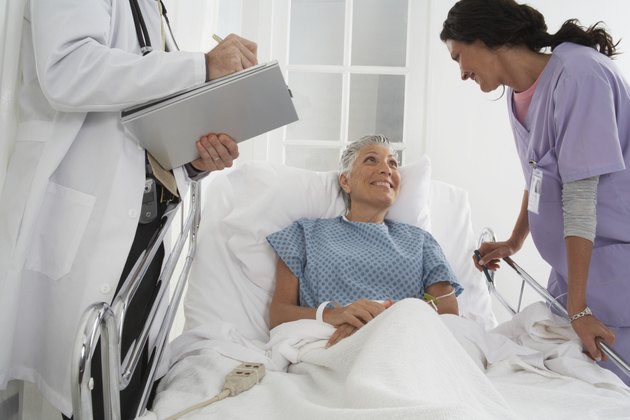 Calorie Needs
Calorie needs during cancer are not the same for everyone. Your needs are dependent upon your weight, height, presence of side effects and treatment. However, people with cancer typically require a high-calorie diet to prevent weight loss and improve treatment outcomes. For healthy adults, calorie needs range from 20 to 25 calories per kilograms of weight., with 1 kg equal to 2.2 lb of body weight. As a cancer patient, however, you need to consume 25 to 35 calories per kg of body weight. For example, a 130-lb. woman will need between 1,477 to 2,068 calories per day and a 175-lb. man will require 1,988 to 2,774 calories daily.
Protein Needs
Protein is essential for proper functioning of the body. It aids in the formation and maintenance of muscles, tissues, red blood cells and hormones, fights infection, strengthens the immune system, prevents muscle wasting and maintains optimal fluid balance. The current recommended dietary allowance for protein is between 45 to 60 g of protein per day. Cancer stresses the body, you may need more protein if you are undergoing treatment, losing weight or if you develop an aversion to fat. It is important to discuss your individual needs with your physician or dietitian.
Tips To Increase Food Intake
There are techniques that will help you meet your high energy needs. Eat several small meals and snacks throughout the day, rather than three large meals. Try to eat a high-calorie, high-protein food every couple of hours. This will make it easier to meet your needs without stuffing yourself at one big meal. Eat your biggest meal when you feel the most hunger and be sure to include your favorite foods. Drinking high-calorie, high-protein beverages like milkshakes or supplements will increase your intake. Drinking liquids between meals, rather than with meals, will help you be able to consume more food.
High-Calorie, High-Protein Foods
Certain foods have more calories and protein than others. When trying to increase your intake, choose these foods first. Peanut butter, eggs, milk, yogurt, cheese, meat, fish, poultry, dried beans and peas, smoothies, toast and crackers are good selections. To increase the calories or protein content of a food, add butter or margarine to puddings, casseroles, vegetables, cereals, breads and pasta. Add wheat germ to hot cereal or meat dishes and mayonnaise or salad dressing to sandwiches, salads and dips. Add evaporated milk in desserts and baked goods, use gravy liberally, add sour cream to potatoes, sauces and dips, add sweetened condensed milk to pies, milkshakes and puddings, add eggs to casseroles, meat loaf, cooked cereal and pasta and use cheese in vegetables, soups and for snacking. It is important to incorporate fruits and vegetables into your diet every day, as they provide essential vitamins, minerals, phytochemicals and antioxidants to fight against cancer.