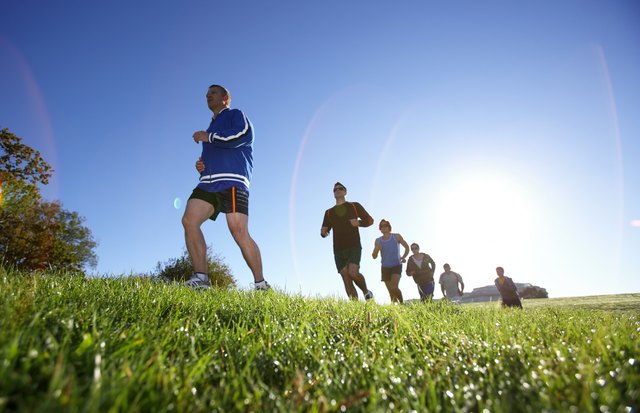 Improving your running endurance as quickly as possible requires a combination of traditional endurance training and explosive, high-intensity training. Your aerobic capacity, referred to as VO2 max, is a relatively accurate measure of your lung capacity and endurance potential, according to Certified Strength and Conditioning Specialist (CSCS) Phil Davies. It is a measure of how many liters of oxygen you take in during a one-minute time period; the more, the better. Additionally, a study published in the Journal of Applied Physiology proved that explosive training techniques help to increase your running endurance by improving your running speed and oxygen uptake.
Step 1
Train on a treadmill or outside three days per week by running at 75 percent of your maximum aerobic power. You can estimate this by using a heart rate monitor. Your max heart rate is 220 minus your age in years. Multiply that number by .75 to find your target heart rate. Maintain this heart rate for 30 minutes per workout. This will help improve your VO2 max by 15 to 20 percent within six months, according to Phil Davies.
Step 2
Exercise at a vigorous intensity level two or three times per week on days you are not performing your other 30-minute workouts. 15 to 30 minutes per workout is adequate. Use high-intensity aerobic training, such as sprints or interval training. The Journal of Applied Physiology study found that participants who supplemented high-intensity aerobic exercise alongside traditional endurance training techniques improved their 5K times within nine weeks.
Step 3
Schedule at least one rest day per week to allow time for your body to fully recover. A sample weekly workout schedule may include 30-minute running workouts at 75 percent of your max aerobic power on Monday, Wednesday and Friday, high-intensity workouts on Tuesday and Saturday and rest on Thursday and Sunday.
Step 4
Sleep for six to eight hours per night. Your muscles recover during this time, so it's important to get enough sleep.
Things You'll Need
Running shoes

Heart rate monitor
Tip
Chart your running times on a weekly basis to see your improvement.
Exercise with a friend to help keep each other motivated.
Warning
Stop training and/or lower the intensity level of your workout if you experience symptoms of overtraining, such as dizziness or weakness.