Postural kyphosis describes a syndrome that affects the neck and upper back. People displaying this type of posture typically have a rounded or hunched upper back and a forward head position. Congenital spinal deformities, tumors, paralytic disorders and arthritis may cause kyphosis. These conditions require medical intervention. In contrast, muscular imbalances between the chest and back muscles, habitual faulty posture unconsciously copied from a parent, or lack of self-confidence may cause postural kyphosis. Weight training exercises that pull the shoulder blades toward each other and extend the neck may correct postural kyphosis.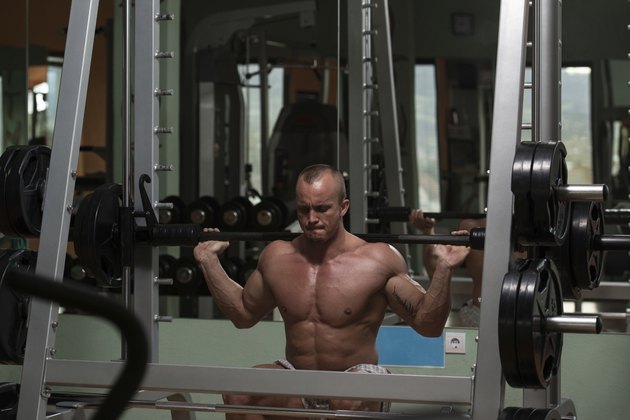 Prone Neck Extension
Step 1
Lie prone on a weight bench with your legs extended, your feet on the floor, and your head and shoulders off the end of the bench.
Step 2
Place a towel behind your head and place a weight plate on top of the towel. Hold the weight and the towel with both hands. Flex your neck by bringing your chin toward your chest.
Step 3
Lift your chin and hyper-extend your neck, bringing the crown of your head toward your shoulder blades. Perform 10 repetitions. This exercise corrects the forward head position associated with postural kyphosis.
Lat Pulldown
Step 1
Set the weight by removing the pin from the weight stack, and inserting it into the appropriate hole.
Step 2
Sit, facing the weight stack and place your thighs under the support pads.
Step 3
Reach up and grasp the outside of the bar. Bend your elbows and bring the bar down to your chest.
Step 4
Straighten your arms with control. Perform three sets of 12 repetitions. The lat pulldown works the latissimus dorsi, the muscles that run down the side of your back.
Dumbbell Seated Rear Lateral Raise
Step 1
Sit upright on the edge of a weight bench with your knees bent and your feet flat on the floor.
Step 2
Hold one dumbbell in each hand. Rest your chest on your thighs, and bring the weights together underneath your legs. Keep your elbows slightly bent.
Step 3
Squeeze your shoulder blades together, as if you were catching a pencil between them. Lift your arms to shoulder height, and return to the starting position with control. Perform three sets of 12 repetitions. The dumbbell seated rear lateral raise, also known as the reverse fly, works the back of your shoulders and your rhomboids, which pull your shoulder blades together.
Things You'll Need
Weight plate

Towel

Lat pulldown

Seated row

Free weights
Tip
Ask a trainer to help you select the correct weight for your strength level. Some weight machine pins require you to press a small button to release them. If a pronounced lower back arch accompanies an upper back kyphosis, perform abdominal and gluteal strengthening exercises to correct the imbalances.
Warning
Consult a doctor before starting any exercise program. Unsupervised weight training is inadvisable for people with congenital or paralytic kyphosis. Consult a physical therapist.
Performing more chest than back exercises, or using significantly heavier weights, will exacerbate the kyphosis.