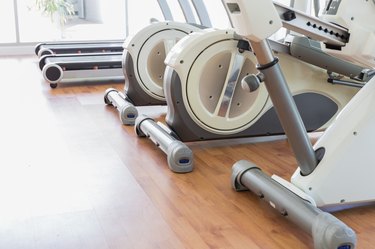 Exercise machines help you burn calories, build muscle and improve your endurance. Certain machines deliver a more intense cardiovascular workout than others, meaning you burn calories at a faster rate. The way you use cardiovascular exercise equipment also affects how efficiently you burn fat. Use the machines' settings and additional tools to maximize your workout's aerobic and strengthening benefits.
Burn Calories on a Treadmill
Of all the equipment in your gym or club, the cardiovascular exercise machines deliver the workout that burns the most calories. Running on a treadmill burns more calories than any other machine-centered workout. Before you begin, check the settings and select an intense pace to burn more calories. If you weigh between 125 and 185 pounds and jog at 5 mph for one hour, you burn between 480 and 710 or more calories, depending upon your fitness level and weight. Pick up your pace to 7.5 mph and you burn between 750 and 1,110 calories, which means you can lose up to 2.5 pounds per week running six of the days. Rather than running faster, you can also intensify the workout and burn extra calories by setting the treadmill at an incline, so you're running "uphill."
Use an Elliptical Trainer
An elliptical trainer can offer you an excellent aerobic workout. However, because you power the pace of an elliptical trainer, it is easy to slip into coasting when you get tired. To maximize its calorie-burning benefits, work out at high speed and use a machine that has movable handles so you work your arms as well. An added benefit of exercising on an elliptical trainer is that your feet never leave the pedals, making it a low-impact aerobic workout. An hour on the elliptical can burn 540 to 800 calories or more. You can also adjust the resistance and incline on an elliptical trainer to burn extra calories.
Other Cardiovascular Exercise Machines
Other machines that make you raise your heart rate also burn calories efficiently. For example, climbing a stair treadmill burns between 360 and 532 calories in one hour. The workout is lower-impact, so it will not stress your joints, muscles and tendons as much as running high speed on a treadmill. Stair-climbing also provides a strengthening workout for your gluteal, thigh and calf muscles. However, avoid leaning on or holding onto the machine; it reduces the number of calories burned. Using a stationary rowing machines provides a total body-strengthening and aerobic workout, burning between 310 and 754 calories in one hour. Doing indoor cycling at a vigorous rate burns 630 and 932 calories per hour.
Interval Training on Exercise Machines
Most exercise machines feature settings that allow you to make the workout more intense, thus burning more calories. If your machine has an interval setting, using it will dramatically boost your calories burned. This setting varies your pace, usually starting with a warm-up, moving to a vigorous pace then adding in some sprints. The sprints boost your heart rate higher and keep it there, even when you slow down to a recovery pace. You can program your own intervals on an exercise machine by increasing the pace or changing the incline every few minutes and sustaining the sprint or climb for at least 30 seconds. Consult your doctor before beginning interval training or any other new exercise regimen.