Puffball mushrooms are similar to tofu in color and in texture and can be cooked in a similar fashion. Preferred methods of cooking puffballs range from cubing the flesh and simmering it in a soup to slicing the mushroom and frying it. Puffballs can also be baked, grilled, sautéed and steamed. Regardless of which method you choose, make sure the mushrooms you use are white and uniform throughout.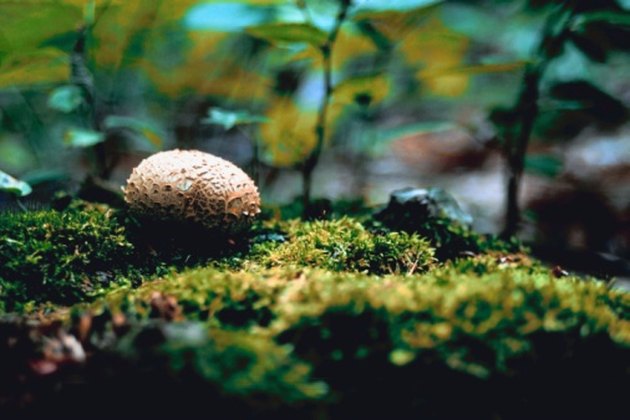 Preparation
To clean a puffball, first remove any dirt using a mushroom brush or paper towel. Use minimal water, as puffballs are very absorbent. Dry the mushroom thoroughly. Since the outer layer can cause gastrointestinal distress in some individuals, remove the skin with a knife before proceeding with any method of cooking.
Fried
To fry puffball mushrooms, cut them into thick slices. In one bowl, mix up a batter of egg and milk. Fill a separate bowl with bread crumbs seasoned with salt, pepper and other spices if desired. Drench each slice in the batter and then coat with the bread crumb mixture. Sauté in a pan with butter or oil until golden, using minimal butter, as the puffball will absorb almost any amount of liquid. Drain on a paper towel and serve.
Soup
Many types of soup can benefit from the addition of puffballs. To use puffballs in miso soup, cube the flesh as you would tofu and then add it to the soup and simmer. Puffballs can also serve as the key ingredient in a mushroom soup based on cream or milk.
Other Uses
Puffballs are well known for their ability to complement dishes with eggs, such as scrambled eggs. Since they are so similar to tofu, you can also use puffballs as a healthy alternative to meat in many different dishes. The mushroom's ability to absorb flavors makes it a good choice for a sauce-based stir fry. Whether baked, grilled, sautéed, steamed or simmered, this versatile mushroom is best when fresh. Those lucky enough to find a bumper crop can cook it and then freeze it for future use.